Final Fantasy 13 720p PC Cap Fixed By Modder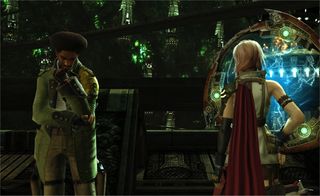 Modders to the rescue. That's probably going to be one of the defining elements of the eighth generation of gaming on PC, it definitely helped a lot of the PC ports during the seventh gen. Well, don't expect things to change too soon because Final Fantasy XIII on PC seems to be running into the same kind of problems as before, but there are always modders to help out.
DSO Gaming did an article noting how the initial release of Final Fantasy XIII on PC had some pretty locked down content. The game is supposedly stuck at 1600 x 720, in which case if you try to play it on TV that supports full HD at 1080p, you will be stuck playing it at nearly half the resolution. What does this mean? It means that on a 1920 x 1080 monitor or a 1080p TV you're going to end up with a very pixelated 720 resolution with tons of jaggies.
How was it figured out that the resolution was capped? Well, users began sending in screenshots of the performance and graphics options for Final Fantasy XIII, or rather, what the options don't feature. Check it out below.
The problem with the restrictions is that the game is now gimped for PC gamers – gamers who may have a larger rig won't be able to make use of their glorious master gear with a game like Final Fantasy XIII because of the enforced caps.
It's not something that's isolated to Square Enix's latest PC title. This problem was made apparent originally with From Software's Dark Souls, where modder Durante stepped in to fix the problem. There was also the recent issue with Capcom's port of Dead Rising 3 where it also had some frame-rate caps – although gamers could modify the initialization file and unlock the frame-rate for up to 60 frames per second.
Metal Gear Rising: Revengeance also ran into a problem with the resolution restrictions, and once again modders ran to the rescue.
Quite naturally, Durante came barreling through the fog of pixelated, piss-poor resolutions and slammed down his sword into the ground to clear out the fog and use his shield to knock the resolution caps clear into the stratosphere. DSO Gaming features the some of the updates offered by the unofficial patch that fixes things like depth of field, some image scaling, and resolutions that scale up to 4K.
I have to say, some of the images from the updated, patched version of the game look absolutely stunning. I know a lot of people say that resolution and frame-rate don't matter much, but by all accounts when you see a cleaned up, texture-rich rendition of a game running at an unlocked frame-rate with an artifact-free scale and no jaggies, it's just jaw-dropping. It seriously makes a huge difference in how immersive and visually compelling some games can look.
You can grab the Durante fix for the game right now, or you can pick up a digital copy of the PC version from Steam for $15.99. The only curator that seems to be recommending the game at the moment – even though it's pretty broke without the Durante fix – is NeoGaf. But given some of NeoGaf's recent issues, it's a little difficult to take that recommendation seriously.
Staff Writer at CinemaBlend.
Your Daily Blend of Entertainment News
Thank you for signing up to CinemaBlend. You will receive a verification email shortly.
There was a problem. Please refresh the page and try again.