Final Fantasy XIV: A Realm Reborn Finally Arrives On PS3, PC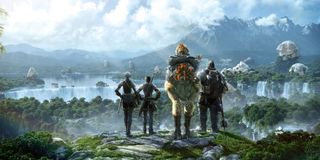 At long last, it is time for heroes to don their armor, take up arms, unite and set forth on a grand adventure across the world of Eorzea as Final Fantasy XIV: A Realm Reborn finally launches in North America for PC and the PlayStation 3.
A couple of years ago, Square Enix made a return to the MMO scene with Final Fantasy XIV, a doomed online world that, according to those who got to play it in the early days, wasn't all that much fun. A massive reorganization took place within the development team and everyone got to work on revitalizing the game, intent on making it the grand online adventure they had promised in the first place.
Today, that revision is finally ready for the masses as A Realm Reborn finally hits the market, offering an epic new story, hundreds of quests and loads of Final Fantasy staples like air ships, chocobos, moogles and even the mechs from Final Fantasy VI. In short, it looks like this newest version of FFXIV was created as both an apology letter to fans who felt let down by the original game, as well as a love letter to the series itself.
I've personally stayed away from the numerous betas for A Realm Reborn because, quite frankly, good MMOs tend to do very bad things to me. Once I heard all of the positive buzz surrounding the revitalized version of the game, I feared for my free time and not-so-free-time alike. It's been a decision of self-preservation, really.
But that doesn't mean that folks with a little more self-control than yours truly shouldn't be willing to give it a try.
Taking place in the world of Eorzea, the game's main story takes place five years after Bahamut, the most powerful of the Primals, ravaged the countryside. Your quest begins alongside a world that is attempting to rebuild and, wouldn't you know it, far more dangerous encounters lie just around the bend.
While A Realm Reborn capitalizes on many well-known MMO tropes found in other games like World of Warcraft and Lord of the Rings Online, the game also offers some new twists, like the highly anticipated Armoury System, which lets you change your character's role on the fly rather than building multiple characters to fill each role. Can I get a "halleluiah?"
According to Producer and Director Naoki Yoshida, it's been a long road to get A Realm Reborn to its current state, but he thinks the team has pulled off something special.
"We are extremely proud of all the work and effort spent creating Final Fantasy XIV: A Realm Reborn, and I hope that both new and old players enjoy this Final Fantasy experience," he said. "We look forward to supporting this title for many years to come, always listening to the community and delivering rich content updates and new stories that our fans deserve."
If that all sounds like a good time to you, you can gram FFXIV starting today for $39.99 on the PS3 and $29.99 on PC. Every copy of the game comes with a 30-day trial with a $12.99 monthly subscription after that.
Your Daily Blend of Entertainment News
Staff Writer for CinemaBlend.