The Final Roster For WWE RAW vs. Smackdown! 2008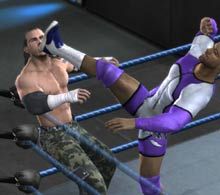 Earlier this month, IGN broke the final roster list for WWE RAW vs. Smackdown! 2008. This included the unlockable legends as well as the non-playable characters that will appear in the game.
Here's the full list as follows:
CURRENT SUPERSTARS
Ashley


Johnny Nitro


Ric Flair


Batista


JTG


Bobby Lashley


Kane


Sandman


Booker T


Kelly Kelly


SHAD


Candice Michelle


Ken Kennedy


Shawn Michaels


Carlito


Kenny Dykstra


Snitsky


Chavo Guerrero


Marcus Cor Von


The Great Khali


Chris Masters


Mark Henry


Tommy Dreamer


CM Punk


Matt Hardy


Torrie Wilson


Edge


Melina


Triple H


Elijah Burke


Michelle McCool


Umaga


Finlay


Mickie James


Undertaker


Gregory Helms


MVP


William Regal


Jeff Hardy


Randy Orton


John Cena


Rey Mysterio
NON-PLAYABLE CHARACTERS
Armando Alejandro Estrada


Lillian Garcia


Stephanie McMahon


JBL


Maria


Tazz


Jerry Lawler


Michael Cole


Theodore Long


Jim Ross


Mickie Henson


Tony Chimmel


Joey Styles


Mike Chioda


Jonathan Coachman


Nick Patrick


Vince McMahon


Justin Roberts


Shane McMahon
WWE LEGENDS
Bret Hart


Roddy Piper


The Rock


Mick Foley


Steve Austin


Rick Rude


Terry Funk


Sabu
Well it's nice to see CM Punk finally make his video game debut here. But who didn't make the cut? The current reigning World Tag Team champions of RAW, Lance Cade and Trevor Murdoch. Besides them? The former tag team champions, Paul London and Brian Kendrick. Also, the current WWE Cruiserweight Champion of Smackdown! programming, the little bastard leprechaun son of Vince McMahon himself, Hornswoggle. The current tag team champs of Smackdown!, Deuce and Domino along with their valet Cherry, are also nowhere to be seen.
I'm rather confused. The members of Cryme Time, a tag team that's been fired from WWE are in the game, but Paul London and Kendrick who as a tag team held the titles for almost a year and had plenty of show-stealing matches during that time don't get to be in the game? What about Lance Cade and Trevor Murdoch? Cade and Trevor Murdoch I can perhaps understand since they weren't as big in 2006 as they were in 2007, but I can't justify the lack of London and Kendrick. The members of the World's Greatest Tag Team, Shelton Benjamin and Charlie Haas didn't make it in either.
It's rather disappointing none of the above made it in the game at all and a team that really never did jack except comedy skits like Cryme Time did. So total there are 50 playable characters in this game, and about 30 more you can create in C-A-W mode. If you ask me? I'm going to forget about, RAW vs. Smackdown! for now and look at Fire Pro Wrestling Returns. 327 playable characters, plus 500 you can create yourself. That's what I call roster depth for a wrestling video game.
Your Daily Blend of Entertainment News