Fire Emblem: Awakening Screenshots Head Into Battle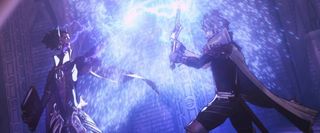 Nintendo's upcoming RPG for the Nintendo 3DS received a batch of new screenshots today, featuring the characters locked in a tension-laden clash of wits and brawn. You get to see a brief shot of the cinematics as well as the characters laying out plans and preparing to engage in battle in the tactical RPG for Nintendo's handheld system.
Following up on Nintendo's recent barrage of media promotion for the mobile title, including the official release date and a sparkling new trailer, the Big 'N' decided to freshen things up by letting loose more than a handful of screenshots.
The new screens come courtesy of Minifortress, where we get to see the heroes locked in battle, talking it out and generally being all JRPG'ish.
You can scope out the new screenshots for the game below. Fire Emblem: Awakening is set for release exclusively on the Nintendo 3DS beginning next month on February 5th. You can probably barely learn anything new about the game by paying a kind visit to the official website.
Image 1 of 10