Five Nights At Freddy's 2 Launches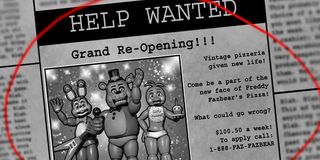 Five Nights at Freddy's 2 won't be launching in 2015 as planned. Scott Cawthon released the PC version of the game through Steam on Monday.
In Freddy's 2, players are once again working the night shift at Freddy Fazbear's Pizza. This would be a boring job if not for the animatronic robots wandering the building. They have a tendency to enter the security office and kill whoever they find.
The players' challenge is to keep tabs on the aimless robots with security cameras. There's no door to the security office so when any of the robots get close this time around, though, so you'll need to don an animal mask to throw them off. This doesn't work with every robot, though, but hey you'll figure it out after a few horrible deaths.
Judging by some of the early reviews on Steam, the sequel is about as terrifying as the first game:
The Let's Play crowd, meanwhile, also seems pretty unnerved by the game:
The launch of Five Nights at Freddy's 2 came as a bit of a surprise. The game was announced less than a month ago. What's more, the first Five Nights came out in August. It takes AAA studios longer to announce the titles of games they've already confirmed.
If you're thinking of buying Freddy's 2, here are the minimum system requirements:
OS: XP,Vista,Windows 7, Windows 8
Processor: 2 GHz Intel Pentium 4 or AMD Athlon or equivalent
Memory: 1 GB RAM
Graphics: 1 GB
Hard Drive: 250 MB available space
If you'd rather not pay the $7.99 just yet, you can check out the free demo at IndieDB. It allows you to play two nights from the full game.
Five Nights at Freddy's was ported to iOS and Android shortly after its PC debut. No details have been announced on the mobile versions of Freddy's 2 yet, though.
Staff Writer at CinemaBlend.
Your Daily Blend of Entertainment News
Thank you for signing up to CinemaBlend. You will receive a verification email shortly.
There was a problem. Please refresh the page and try again.