Five Nights At Freddy's 3 Announced With Horrifying Trailer And Screenshots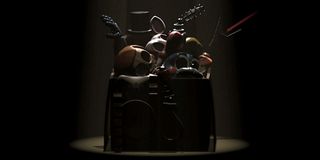 Five Nights at Freddy's 3 was officially announced today by designer Scott Cawthon. He released the first trailer and screenshots along with a few details on the PC horror game's story.
In the first two Five Nights games, the player is a security guard watching over a pizza parlor that featured animatronic dolls. These dolls wander the halls of the building at night and will kill anyone they find. The player can't move from their office so they have to monitor the dolls' movements with the surveillance system. When these robots get too close, the player can use certain items to ward them off. In Freddy's 2, for example, the player can use a mask to hide from enemies.
Five Nights at Freddy's 3 is set long after the pizza parlor has closed. Someone gets the bright idea to create an attraction based on the parlor. Here's the official description from the Steam Greenlight page:
It's hard to imagine that there's something scarier than killer animal robots. There is, though: killer animal robots covered in mold and stitched together from spare parts.
The first screenshots from Five Nights at Freddy's 3 point toward a similar experience as the previous two games. Players will monitor the twisted theme park and try not to die in the process. It's unclear at the moment what tools they'll have at their disposal this time to avoid attacks by the animatronics, though.
If you're interested in seeing Five Nights at Freddy's 3 on Steam, go vote for it on Greenlight. Given the huge response to Freddy's 2, though, the game will end up on Steam even if you don't.
The first two Five Nights games were released on mobile devices shortly after they hit Steam. Presumably you'll be able to play Freddy's 3 on your smartphone soon as well.
Image 1 of 5
Your Daily Blend of Entertainment News
Staff Writer at CinemaBlend.
Your Daily Blend of Entertainment News
Thank you for signing up to CinemaBlend. You will receive a verification email shortly.
There was a problem. Please refresh the page and try again.