Flappy Bird Developer Is Removing The Game From App Store, Google Play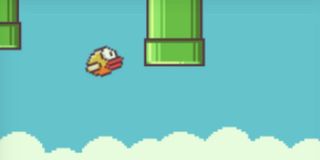 Dong Nguyen, the creator of the indie sensation Flappy Bird, has announced that he's taking down the iOS and Android game. He says the game will disappear from the App Store and Google Play Store by Sunday afternoon.
In Flappy Bird, the player guides a bird between a series of pipes. If the bird hits a pipe or the floor, they die and the player has to start over. The sole objective is to pass through as many pipes as possible and beat your personal high score. This simple formula was enough to make the game climb to the top of the download charts for both iOS and Android devices.
Though it's free to download, Flappy Bird still managed to make Nguyen a lot of money. Earlier this week he revealed that he earns $50,000 per day through in-game ads.
The huge success of Flappy Bird, however, caused everyone to put the game under the microscope. Some accused him of stealing the art, if not the entire game. Others claimed that Flappy Bird only topped the charts because Nguyen used bots to inflate its downloads. Critics who didn't level these accusations at the game still argued that it was unworthy of its success. Nguyen didn't enjoy the scrutiny.
I'll be the first to admit that Flappy Bird's not a great game. It's a very basic title whose runaway success is a little baffling. Still, it's not a terrible game. At the end of the day, Nguyen's a lucky guy rather than an evil or greedy one. I think it's awful that he feels he needs to delete the game altogether.
I'm sure there will be plenty of gloating over Flappy Bird's removal. Fucked if I understand it, though. This doesn't make the mobile gaming scene any stronger. There are plenty of games out there that are more boring, unimaginative and expensive than Nguyen's creation. Plus, all those Flappy Bird clones that have sprouted up aren't going anywhere.
Though Nguyen is removing Flappy Bird from mobile stores, we haven't seen the last of him. He says that he's going to stick with game design.
Staff Writer at CinemaBlend.
Your Daily Blend of Entertainment News
Thank you for signing up to CinemaBlend. You will receive a verification email shortly.
There was a problem. Please refresh the page and try again.