The Full-Length Dead Or Alive Xtreme Trailer Is Just As Raunchy As You'd Expect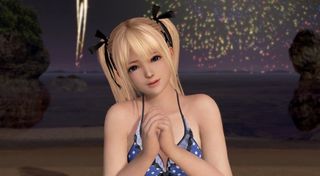 Koei Tecmo released a new trailer showcasing five minutes of various types of gameplay for Dead or Alive Xtreme 3. The game is definitely far less volleyball oriented than the previous two iterations and gamers get to see all sorts of other mini-games, outfits, pole dancing and the Gravure photo mode on display.
Shacknews linked to the trailer that was recently posted by Koei Tecmo, giving gamers a five minute look at the various characters and locations featured in Dead or Alive Xtreme 3. You can check out the video below.
The first minute is mostly showing the main mini-games that we've seen many times before in the promo pieces, including the butt-bumping game and the water-balancing race. We also get to see part of Team Ninja's patented Soft Engine technology on display, from the soft-body physics that not only react to jumping, running, climbing or falling, but also has precision indentation based on light movement and physical contact.
The Soft Engine's wet-clothing mechanics that Team Ninja originally introduced in Dead or Alive 5 is also making its return. The wet clothes don't seem to be improved much over the last outing of Dead or Alive 5, but I'm sure fans are excited that the feature is back nonetheless.
The trailer also rolls through the Gravure mode, with the options for players to setup the location, time of day and outfits that various cast members of the game can wear while using the photo or video mode to snap shots of the girls while they relax or pose or play around on the beach.
One of the things that gamers may not have known about is the ability to buy the girls gifts and items. Very much like the previous outings of Dead or Alive Xtreme, it's possible to purchase items and accessories to give to the girls to increase the affinity with them. What does the affinity do? Well, it makes it so that they're more likely to wear certain outfits that are purchased for them.
The one mode most people had no idea existed was the Casino. Koei Tecmo has been extremely tight-lipped on keeping the Casino and its mini-games a close kept secret up until now. It's essentially an all new gameplay arena where players can retreat to and play some mini-games that include Blackjack, Craps, Poker and even Roulette. I was surprised this was included in this version of Dead or Alive, and the feedback on this mode has been very positive. A lot of gamers are actually quite excited about relaxing and playing some casual casino games when they find themselves getting bored or a little tired of playing around on the beach.
The trailer ends with a few short teaser clips of the game's pole dancing, which has actually been featured in some previous Dead or Alive games, but we don't get to see much of it in action.
Dead or Alive Xtreme 3 is due for release on March 24 later this month for the PS Vita and PS4, exclusively in Asia.
Your Daily Blend of Entertainment News
Staff Writer at CinemaBlend.