Dead or Alive Xtreme 3 Probably Won't Be Getting Western Fans Excited Anytime Soon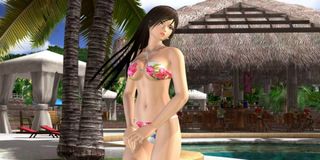 Team Ninja is hard at work on its next few projects, confirming a few days ago during the Dead or Alive Festival event, and one of them is Dead or Alive Xtreme 3.
Gematsu reports that Team Ninja's Yosuke Hayashi let some details fly about a game that development has just started on. Namely, "a game where Dead or Alive characters go to a southern beach on vacation."
Additionally, the official Dead or Alive Facebook page posted details directly following the event, confirming that Dead or Alive Xtreme 3 was indeed announced (though under a working title) but it would be made "exclusively" for the Japanese and Asian market. So, let's recap: there's a new Dead or Alive Xtreme 3 on its way, it's in development now, but we probably won't be seeing a localized version. Sounds like a beach bummer.
The last main entry in the Dead or Alive Xtreme series launched way back in November 2006 for the Xbox 360: Dead or Alive Xtreme 2, so it's been nearly a decade since we were able to take to the beach with our favorite characters for some poolside fun. It caused quite a stir in the gaming community back then, being one of those games that you didn't pick up unless you were "creepy" or "perverted" given the fact that you could buy the characters' "friendship" and take photos. Of course those allegations weren't true, and the game was a cutesy front for a surprisingly fun collection of minigames.
However, there was Dead or Alive Paradise, which released in 2010 for PSP. It wasn't actually developed by Team Ninja, but it sought to continue the Dead or Alive Xtreme tradition by offering various minigames and dating sim-lite elements that allow you to interact with the girls.
It didn't exactly wow critics or fans, receiving low reviews across the board. But given the fact that it was meant as a way to "restart" making the game series, its underwhelming performance could possibly be one of the reasons the upcoming Dead or Alive Xtreme 3 is headed straight for Japan instead of making a pitstop in the West.
It'll be interesting to see if the tides turn on this one, though unfortunately it looks like one unfortunate situation where fans are left to import, though if it doesn't improve much from the previous game, maybe it's providence that this isn't being released for Western fans just yet. Hopefully that's just the preliminary plans for the title and it's not going to stick. I'm going to remain hopeful on this.
Your Daily Blend of Entertainment News