GFWL Removed From Street Fighter IV Arcade Edition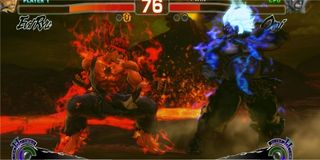 Capcom pulled a fast one right here. The company that introduced us to the most vile form of disc-locked content managed to turn around their image and showcase that they do care about their fans by patching out the doomed Games For Windows Live.
So a real quick recap: Games For Windows Live is supposed to be shutting down on July 1st. A lot of games that are still using the service are having trouble getting through the login and DRM access screens, as reported by countless gamers across the web, including forum posts like the one on Shoryuken.
The reality is that there's money to be lost if someone buys a game, can't activate it via GFWL and then gets a refund. So, doing the wise thing in this situation, Capcom has opted to switch from Microsoft's Games For Windows Live platform to the Steamworks integration system. Yes, this means that Street Fighter IV Arcade Edition on PC no longer uses Games For Windows Live.
To celebrate this transition Capcom has discounted the game on Steam this weekend, so you can get the game and all its DLC for 75% off the normal price on the Steam Store. This means that the game is available for only $7.49.
For anyone who bought the complete pack from GFWL you'll need to re-buy all the DLC. Yes, it sucks the smelly, massive, hairy lower external extremities of a donkey, but it's better to re-buy all the DLC for a game that works than have a version of the game that is dead on start-up.
I'm not too fussed about it because I already have Street Fighter X Tekken: The Complete Edition and there's really no reason to return to SFIV: Arcade Edition. However, for people who do want to return to the game and play the DLC... yes, you'll need to reacquire the complete edition for all the extra content that were all previously tied to a GFWL purchase.
And this folks, is why an all-digital future looks crappier and crappier every time a DRM-service shuts down.
Still, I at least have to applaud Capcom for taking the necessary measures to get the game off GFWL. There are still some games not quite off the service and this means that time is counting down and looking frenetic for a lot of titles that may not make the July 1st deadline, including the highly popular Grand Theft Auto IV.
On the flipside, in the console space Xbox 360 gamers are getting Street Fighter IV: Arcade Edition for free during the Games For Gold campaign. They also don't have to worry about any DRM services preventing them from accessing the game.
On the up and up, so long as Steam doesn't bite the dust within our gaming life-time, I think everyone will be happy that many previous GFWL titles have moved off Microsoft's dying DRM service and onto Gabe Newell's software sanctuary for PC gaming.
Also, you'll probably want to grab the Street Fighter IV Arcade Edition if you haven't already while it's 75% off.
Your Daily Blend of Entertainment News
Staff Writer at CinemaBlend.