GTA 5 Mods Have Begun, Niko Joins The Cast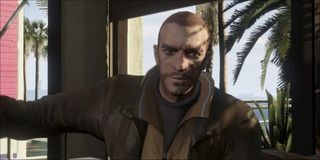 Some gamers have already started modding Grand Theft Auto V despite the fact that a PC version hasn't even been announced yet. That hasn't stopped eager gamers from messing around with the file structures and adding in new content to the game.
Gamepur picked up note of the first active GTA V mod which features the protagonist from GTA IV, Niko Bellic, who replaces Michael as the playable character in the story mode. The only downside is that his pants are a bit weird and he has no hands and feet.
Now a lot of people have been saying that this isn't a real mod, etc., however to prove that Niko really is in the game you can see where he's replacing Michael in the opening cinematic where he has a conversation with his therapist.
So it's quite obvious that Niko is in a place where he isn't supposed to be, and this verifies that mods will be a huge thing for GTA V, even if it's not going to be coming to PC as soon as we would all like.
Now the real sexy part about all of this is that many of the file-structures are still similar to the way previous GTA games have been setup (i.e., where replacing models was done within the call-file structure so you could replace a car or ped or player character by switching the name with a new file or calling to a file to make the change).
Raymnd from the Se7en Sins forums gives a brief walkthrough of how he went about replacing the files on his jTAG'd Xbox 360. Just like other GTA titles, you can't add new models or objects to the list. I'm not sure – and Raymnd doesn't say – if the file size limit (or directory size) has to stay the same in order to work, which is how it is with modding some other games or even previous GTA titles on home consoles.
Nevertheless, seeing Niko opens up some nice possibilities for mods on the console version of GTA V. The only downside is that since Rockstar replaced the multiplayer with their server/client GTA Online mode you can no longer make modifications and play online with friends the way you could with GTA IV.
On the upside, unlike previous GTA games Rockstar used a new method where if a file can't be called then it skips over it. This is great news, as it means that just about any file, map, vehicle,weapon or ped can be modified and if it doesn't call properly, the game will still run and just skip the file.
However, I'm sure a lot of gamers are still disappointed given that modding games on consoles is still a real hassle and you'll still need to do all the modifications on your PC first before transferring them over to your console.
Anyway, hopefully we'll get an official announcement of a PC version of GTA V soon so we won't all have to settle for the inferior current-gen port and go through the hassle of trying to mod the game for the dinosaurs of home console entertainment.
Staff Writer at CinemaBlend.