GTA 5 Now Available For Xbox 360, PS3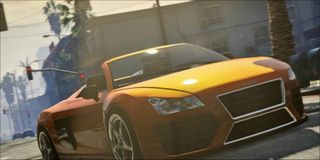 Rockstar Games sent out word that Grand Theft Auto V has officially launched across North America and Europe for the Xbox 360 and the PlayStation 3. I really have no idea who this news story is for because anyone who plays games already knew that this game was dropping and dropping like it was hot.
The game follows on Rockstar's Episodes from Liberty City, which featured The Lost and Damned and The Ballad of Gay Tony.
The original GTA IV was met with a lot of fan-criticism for being "too serious" and "depressing" compared to previous games, but Rockstar has gone out of their way to ensure that the latest game brings back all the hijinks and hilarity that helped shape and mold the iconic Grand Theft Auto: San Andreas, which released during the sixth generation for the PS2, Xbox and PC.
According to Rockstar's official announcement of the game...
The main hook of GTA V is all about heists... heists and heisting. The three main protagonists, Michael, Franklin and Trevor, will work together throughout the game to pull off increasingly difficult heists (as if I didn't use the word enough in the preceding sentence). The game doesn't end with that goal, though.
Players will have an abundance of mini-games to engage in through Los Santos as they explore the deep sea, play some golf, partake in yoga, do some fighting and generally wreck havoc, have fun, race cars and customize the characters to their liking.
Speaking of customization... this is the first GTA game that allows for dynamic weapon customization. Players will be able to outfit their arsenal with exactly what they need and go into battle fully prepped for anything. This also carries over into the game's dynamic multiplayer mode called GTA Online, where players can meet up with friends and do all sorts of wacky and crazy things throughout Los Santos, including carrying out story missions using a customized character.
Despite a lot of the big news in the previous week circulating around the game making its way to pirate sites, GTA V is still scheduled to be one of the biggest selling games of all time and has been estimated by analysts to rack in more than $1.2 billion with its first month on retail shelves, easily recouping its $265 million dollar budget.
Already, GTA V has garnered massive praise from reviewers noting how big, open and fun the game is, with the Metacritic score for reviewers putting the game at a 98 out of 100, while users have scored it an 80 out of 100, which is pretty good for a game as big as GTA V. I guess some companies can please just about everyone?
Grand Theft Auto V is available right now for the Xbox 360 and the PlayStation 3. Some leaked data has hinted at a next-gen and PC release but there's no telling when any new versions of the game will arrive. GTA Online will, however, go live beginning October 1st.
Your Daily Blend of Entertainment News
Staff Writer at CinemaBlend.