GTA 5 PC Patch Fixes Crashes And Windows User Bug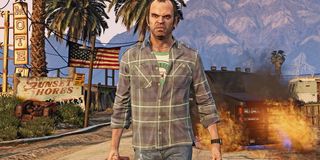 Rockstar Games released the first major patch for Grand Theft Auto 5's PC version over the weekend. The update fixes several huge bugs with the newly launched port.
One of the most surprising launch bugs was due to a conflict with Windows. Players with Windows usernames that featured special characters found themselves unable to either download, install or play GTA 5. Their only solution was to make a new user account entirely or wait for it to be fixed.
That issue has been resolved by Patch 1.01. However, if you created a new Windows account to play GTA 5, you'll need to follow a few steps to transfer your data over to your older account. Rockstar Support has step-by-step instructions for this process.
The Rockstar Editor, the video-making tools that debuted exclusively with the PC version, were a focus of the patch as well. A few loading and crash problems were fixed with the editor. Furthermore, YouTube uploads should now work properly after disconnects.
Here's the full list of fixes announced by Rockstar for Patch 1.01:
Fixed an issue where the GTAV Launcher would use an abnormally high percentage of CPU and sometimes crash
Fixed an issue where frame rate would drop when left-clicking the mouse while driving
Added a grid to the Golf mini-game to show the topology of the green while putting
Fixed an issue where a character's eyebrows or other facial features could change erroneously when transferred to PC
Fixed an issue where a some players were asked to transfer their GTA Online character while a transfer was already in progress
YouTube uploads via the Rockstar Editor will now correctly resume if Internet connection is lost during the upload and later restored
Fixed a rare issue where the game could crash while using the Rockstar Editor
Projects containing deleted clips will now load properly in the Rockstar Editor and warn the player of the missing clips
Fixed an issue where birds were not recorded correctly in Rockstar Editor clips
Corrected an issue where certain characters in Windows usernames would cause the Launcher to fail to load or other undesired game behavior.
Fixed an issue where players with one garage would not be able to replace an existing vehicle if the garage was full and the new vehicle was purchased from an in-game website
Additional fixes to prepare for iFruit support
Crew Tire Smoke can no longer be purchased if you are not in a Crew
If you're interested in breaking the game on purpose, be sure to check out the our cheats guide for the PC version. It should provide you with every code you need to tweak your character and the world around them.
Your Daily Blend of Entertainment News
Staff Writer at CinemaBlend.
Your Daily Blend of Entertainment News
Thank you for signing up to CinemaBlend. You will receive a verification email shortly.
There was a problem. Please refresh the page and try again.