GTA 5 PS4 Owners Get Exclusive Bonus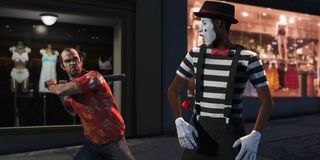 GTA 5 will launch on PS4 and Xbox One later this fall. Players who decide to pre-order the PS4 version will get a little something extra.
"Last month, our friends over at Rockstar announced that all players that pre-order the game would receive $1,000,000 in-game cash to spend across Grand Theft Auto V ($500K) and Grand Theft Auto Online ($500K)," said Sony's Chieh Chen on PlayStation.Blog. "Today, I'm excited to announce that if you pre-order Grand Theft Auto V from PlayStation Store by November 3rd, you'll receive an additional $300K for Grand Theft Auto Online, so make sure you pre-order early!"
An extra $300,000 isn't trivial. It's enough to buy a high-end safehouse for your GTA Online character. A few sports cars are below that amount, too. You won't be able to buy a stockpile of high-powered weapons, though, because weapons are restricted by Rank. You're going to have to earn that assault rifle, young man.
This bonus cash could save you some real money, though. Rockstar makes their GTA Online profits off the sale of "shark cards." These cards give you in-game cash in exchange for real-world currency. If you wanted to buy $300,000 of GTA Online money, it would normally cost you about $8. It's $8 some of you probably wouldn't have spent but $8 nonetheless.
Me, I'm just glad that Rockstar didn't decide to offer actual in-game content as pre-order bonuses for one platform or another. I'm a little tired of missing out on some mission or character in a game just because I bought the version that wasn't favored by the publisher. Or because I decided that pre-ordering a game I haven't played is a bit like playing roulette.
Anyway, it seems like all the new content Rockstar created for the PS4 and Xbox One versions is both versions and isn't restricted to pre-order customers. The new additions include weapons, vehicles and activities. The soundtrack's been beefed up with 100 new songs as well. Each version may have afirst-person mode, too.
The only people that seem to be getting preferential treatment here are owners of the GTA 5 PS3 or Xbox 360 versions. Players upgrading to the new-gen editions of the game will receive classic vehicles like the Dodo Seaplane and Dukes muscle car. They'll also have access to exclusive activities like wildlife photography and new shooting range challenges. I'm sure some GTA 5 newcomers will objective to this exclusive content but to be fair, the PS3/360 owners are buying the game twice. They ought to be getting something extra for spending all that money.
GTA 5 will hit PS4 and Xbox One on November 18th. The PC version, once expected to launch with the PS4 and Xbox One editions, has slipped to next year.
Your Daily Blend of Entertainment News
Staff Writer at CinemaBlend.