GTA 5 Online Microtransactions Earn Tons Of Money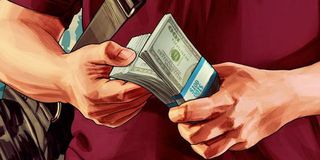 Selling virtual money for GTA Online is very lucrative for Rockstar Games and parent Take-Two Interactive. Microtransactions in GTA 5's multiplayer have earned the companies up to $66 million this fall.
"Recurrent consumer spending related to GTA Online represented nearly half of our digitally delivered revenue in the quarter," Take-Two CEO Strauss Zelnick told MCV.
NeoGAF users noted that the company earned $132.8 million in digital revenue during their most recent quarter. If GTA Online microtransactions were half of that figure, that means that they're worth about $66.4 million.
The estimate's probably off by a significant amount, though. MCV later changed the quote to say that "recurrent consumer spending, which includes GTA Online revenue, represented nearly half of our digitally delivered revenue in the quarter." In other words, GTA Online is part of that $66 million dollar total rather than the whole thing.
Take-Two said in their quarterly report that the growth in their digital revenue was also driven by "the NBA 2K franchise, and offerings for Borderlands 2 and BioShock Infinite." Borderlands 2 and BioShock Infinite have each received multiple DLC packs. NBA 2K14, meanwhile, allows players to spend cash on virtual currency. These games no doubt contributed a significant amount to Take-Two's digital revenue.
That being said, GTA Online probably accounts for the lion's share of Take-Two's "recurrent consumer spending" last quarter. GTA 5 has sold over 30 million copies to date. That's almost two times the combined sales of NBA 2K14, Borderlands 2, and BioShock Infinite. Plus, BioShock Infinite and Borderlands 2 were released well before the start of last quarter. Their revenue for late post-launch DLC isn't going to be close to the money GTA Online pulled in right after release.
For sake of argument, let's say that GTA Online's microtransactions only accounted for half of that $66 million. Revenue of $33 million is well short of Sterne Agee's estimate of $100 million but still an impressive sum. It's even more impressive when you remember that the product they're selling - fake-ass video game money - costs them nothing to produce.
Rockstar has to work hard for this revenue, to be fair. The team needs to keep producing new, free content for GTA Online as well as patches so that players stick with the game and keep spending money. They also have to spend time removing fake money from the game and punishing players that exploit loopholes. Fortunately for them the revenue for GTA Online makes these efforts worthwhile.
Your Daily Blend of Entertainment News
Staff Writer at CinemaBlend.