The Game Awards 2014 Debuts Next Month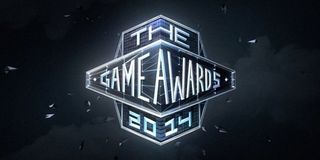 The annual Video Game Awards show will be reborn this year as a newly formatted "The Game Awards 2014" kicks off online Dec. 5 at 9 p.m. ET. From PlayStation to Xbox, Kojima Productions to Rockstar Games, Valve and beyond, this year's program promises to be a big night full of awards and announcements for the video games industry.
According to the show's official announcement, The Game Awards 2014 was designed to "honor every aspect of the world's most dynamic form of entertainment," including world premieres, musical performances and appearances by developers, eSports players and online content creators, which we assume means famous let's play folks.
"The Game Awards 2014 will celebrate our collective love of games and the passion we all hold in our hearts for this incredible entertainment medium," said Producer Geoff Keighlyey. "Gaming has never been stronger, and this year we will recognize the fastest-selling launch year in history for new game consoles, the rise of eSports and mobile gaming around the globe, and preview the games that will make 2015 the biggest year yet."
This year's show will be hosted out of the AXIS Theater in New York City and will be broadcast around the world online, rather than appearing on network television. From your computer to game consoles and various other devices, you'll be able to enjoy this year's show pretty much no matter where you are. A similar format was used last year but, according to this year's announcement, the show has been retooled so it doesn't, well, you know, suck a whole bunch.
I'll give it to the folks who typically put this show together: They're at least trying to makes something relevant for fans of video games to enjoy. The problem is that, in the past, said shows have been targeted at the lowest common denominator. I don't know if that has something to do with it broadcasting on TV for so many years, or the fact that the show's writers, presenters and special guests typically have zero connection to the world of games, but here's hoping this year's show manages to take a few previous gems and combine them into a meaningful experience.
For starters, the musical performances for games like Red Dead Redemption and Dishonored in recent years were killer. Showing off music written for games, rather than random rap songs that were part of an ad campaign, is always preferable.
Secondly, make sure the host is a games advocate. They don't necessarily need to be someone from the industry, but a general understanding of the games landscape would be a huge plus. That goes double for the show's writers, who frequently come off as a middle-aged narc trying to score drugs at a rave.
Finally, since this show is all about video games, maybe scrap any celebrity BS and let the developers actually speak directly to their audience. Whether it's anecdotes about the past year of development, a look ahead at future projects or acceptance speeches that aren't kept to a 20-second time limit, maybe let the people we're supposed to be celebrating take center stage, yeah?
Oh, and one more note: Most anticipated game is not a real award. Get rid of that and at least we'll be headed in the right direction.
Staff Writer for CinemaBlend.
Your Daily Blend of Entertainment News
Thank you for signing up to CinemaBlend. You will receive a verification email shortly.
There was a problem. Please refresh the page and try again.