GameStop Releasing Limited Star Fox Figure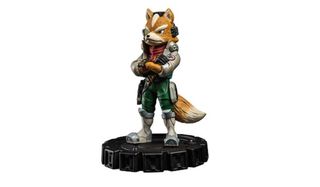 Star Fox fans will want to grab their wallets with a quickness, because GameStop has announced it will soon launch an exclusive statue of Fox McCloud that will only be available in limited supply.
Only 5,000 of these bad boys will be made available and, after that, they're history. To check out the order page, just head on over to GameStop's website (opens in new tab) and get to browsing. Since this is a limited edition item and all, you can expect to part with $79.99 if you want to make this exclusive GameStop statue part of your collection.
The Fox McCloud statue is set to launch on Feb. 9 but, again, we doubt any of these things will make it to an actual store shelf. With only a few thousand being produced, we imagine the pre-orders rolling in over the next month will eat up the supply.
As for what you're getting, it's a statue of Fox McCloud standing around like a BAMF in his flight jacket. The statue is made of resin stone and each is hand painted. The dude stands at 8" tall, in case you need to set aside some room on your shelf. The statue comes with a base for McCloud to stand on, too.
Now if Nintendo really wanted to make a pretty penny on this statue, they could have made that base into an amiibo platform and sold the whole thing at an even greater premium. Fox could have kicked off a line of "deluxe" amiibo that, let's face it, people would have crawled across an ocean of glass to add to their collection.
Fox certainly seems to be staying pretty busy these days. His most recent appearance was in the latest Smash Bros. game where series fans got to kick and blast their way to victory in Nintendo's mascot-filled brawler.
But let's face it: People just want that next Star Fox game and they want it now. We've seen a couple trailers for the new Star Fox Zero running on Wii U, making rad use of that tablet controller by giving players a look at the map or even a constant cockpit view for blasting enemies out of the sky more precisely. We're expecting the game to launch sometime in 2016, so expect to see even more of Fox and his pals in the coming months.
In case you need a little extra hype to get you excited for the new Star Fox statue, here's a look at that new game in action.
Your Daily Blend of Entertainment News
Staff Writer for CinemaBlend.