A Star Fox Live-Action Movie Would Look Like This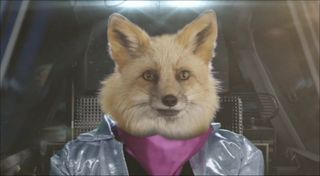 It's likely that there will never be a live-action Star Fox film made within our lifetimes, but if there was it would probably look like this slightly terrifying, kind of funny and very silly re-imagined take on the classic series by the Nerdist. You can check out the video below.
Nerdist fills out an article explaining the live-action parody video of sorts, noting that with Star Wars: The Force Awakens right around the corner it only seemed necessary to do a promo trailer for another underrated space opera in the sci-fi genre... Star Fox.
The article itself is filled to the brim with mimetic gifs of the video from up above. I imagine they would hope that some of those images go viral and make their way to some of the more popular image boards across the web.
This comes at an opportune time for The Nerdist because Star Fox is actually one of Nintendo's prime-time IPs that they've been slowly fostering for release this year.
They haven't made a really big announcement about the game but they've been planting the seeds for hype since last year. Things kicked off when Shigeru Miyamoto was seen play-testing the game on the Wii U GamePad during the Nintendo E3 2014 Direct, and then later on those in attendance at the E3 floor show managed to get to see the game in action for the very first time during the Nintendo TreeHouse event.
The newest Star Fox game will focus on the first-person and third-person combat, with the GamePad enabling players to see the action in first-person for precision aiming and being able to nail targets as they fly by, where-as the third-person combat is so you can see where you're flying and use the camera to weave, dodge and perform evasive maneuvers.
The idea of having two different viewpoints for the action has already put warning bells above the heads of some gamers who don't exactly know how well that's going to work out, but Miyamoto is known for taking risks with games, so I'm going to reserve judgment on the concept until we see it fully in action.
Of course, the one thing I'm most worried about is that Star Fox is due for release before The Legend of Zelda for the Wii U, so why haven't we seen more about the game yet?
Based on the footage that we have see of the game, I wouldn't be surprised if maybe this newest game is just a multiplayer-only title or something like that. But of course Nintendo can easily surprise us all with something special and I'm sure we'll find out when E3 2015 rolls around (or a Nintendo Direct).
As for the live-action version of Star Fox... it's short, sweet and provides viewers with a few laughs and a self-explanatory reason as to why we haven't seen a live-action version of the series... yet.
Your Daily Blend of Entertainment News
Staff Writer at CinemaBlend.