Nintendo EShop Is Having A Huge Sale, Get The Details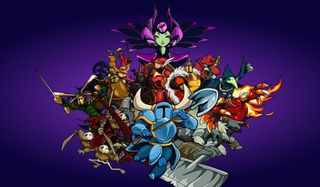 The holidays are officially upon us, so the folks over at Nintendo have decided to stuff your stockings with discounts on lots and lots of games for the Wii U and 3DS. If you're looking to find something new, or maybe pick up something you've had your eye on over the past 12 months, now might be the time to do exactly that.
Holidays are great, but sometimes you feel like curling up with a game and ignoring the family for an hour or so. Thankfully, Nintendo is making it possible to do exactly that on the cheap, kicking off its holiday sales beginning today at noon. Because it's Nintendo, nothing about this sale is super standard, so the end date for each game or publisher's discounts varies and is included in the list below. They also don't announce all of the prices or what games, exactly, are included in a publisher sale, so you'll have to boot up your 3DS or Wii U sometime in the next few days in order to get all of the details.
Along with standouts like Shovel Knight, you'll find discounts on games like Attack on Titan: Humanity in Chains, which is a much more appealing buy at just 20 bucks. Here's the full rundown:
Sales
-Capcom sale- (until 1/1)
-Activision sale- (until 1/4)
-Shovel Knight- (until 1/1)
-Roving Rogue- $3.99 (until 1/7)
-TNT Racers: Nitro Machines Edition- $4.99 (until 1/7)
-Nordic Games sale- (until 1/7)
-Electronic Super Joy- $6.99 (until 1/7)
-Toto Temple Deluxe- $5.99 (until 1/6)
-Little Inferno and Human Resource Machine- (until 12/31)
-Teyon sale- (until 1/7)
-Snow Moto Racing 3D- $3.99 (until 12/31)
-Attack on Titan: Humanity in Chains- $19.99 (until 12/31)
-Shin Megami Tensei: Devil Summoner: Soul Hackers and Persona Q: Shadow of the Labyrinth- (from 12/28 until 1/11)
-Joindots sale- (until 1/7)
-Circle Entertainment sale- (until 1/14)
-Cubit The Hardcore Platformer Robot- $1.99 (until 1/7)
-Zombie Incident- $1.49 (until 1/7)
-Coaster Creator 3D and Cube Creator 3D- (until 1/7)
-Gamelion sale- (until 1/14)
-KORG DSN-12 and KORG M01D- (until 1/7)
-Qubic Games sale- (until 1/14)
-Japanese Rail Sim 3D Journey to Kyoto- $9.99- (until 1/7)
If you were hoping for a big weekly update on the eShop, you'll likely be disappointed in the slim pickings outside of this holiday sale. Super Mario Galaxy launches today for $19.99 on the Wii U but, other than that, you're out of luck. Then again, there's always the possibility that Nintendo has a treat or two to spring on gamers when the eShop update goes live, but we'll just have to wait and see if anything else gets added to the pile.
As for what's on offer, is there anything here catching your eye? Let us know what you're excited about in the comments section below.
Staff Writer for CinemaBlend.
Your Daily Blend of Entertainment News
Thank you for signing up to CinemaBlend. You will receive a verification email shortly.
There was a problem. Please refresh the page and try again.