Gigabyte's Steam Machine Specs Unveiled, Features i5, GTX 760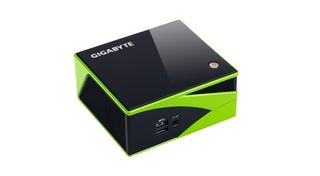 The official Steam Machines may be delayed as Valve re-organizes their efforts and preps for a 2015 launch, in the interim the companies who had planned to release licensed versions of the Steam Machines have begun to roll out more details on the specifications of their miniature, console-style PCs.
Gamers Nexus is reporting that Gigabyte has officially unleashed the specs on their rebranded Steam Machine, which is now called the GB-BX-i5G-760.
The name may look like a planet from Star Trek only because it's an abbreviation of the system specs. The Gigabyte Brix (which is its standard name) comes with an i5-4200H Haswell CPU clocked at 2.8ghz and a 3MB cache. This is considered a very good CPU for gaming and it's also capable of running a discreet version of the GTX 760 Nvidia GPU. Of course, the GTX 760 may not be top of the line, but just about all your basic medium to high gaming needs will be met with a card like the 760. I mean, of course, it's not a GTX 680 and you're not going to be smoking through games at the ultra setting in 4K resolutions on a 120hz monitor, but you'll definitely be able to enjoy games in a much higher capacity than what the Xbox One can produce.
The Brix also comes with a DC in for plugging the device into the wall, two USB 3.0 ports in the back and two USB 3.0 ports in the front. A high-speed LAN port, two mini HDMI ports, a mini display port, and a 3.5mm jack for headphones.
There's no mention of a Wi-Fi adapter or built-in support for such. The main thing is that this is supposedly a starter DIY-style kit that enables users to swap out parts and upgrade certain components.
It doesn't come with a hard drive but it does support mSATA SSD and standard laptop sized 2.5" drives.
The system also comes with two SO-DIMM DD3L slots for two sticks of RAM (again, users will have to supply their own) as well as options to use the on-board GTX 760 with 3GB of GDDR5 installed or upgrade to 6GB of GDDR5.
After heading to the official Gigabyte website to see what the pricing would be like for the different builds – or if it would be possible to buy a complete version of the Brix with everything pre-installed – the "Where to buy" page turns up empty. You can check it out for yourself by clicking here.
Apparently resellers have yet to put in their orders for the Brix? Or maybe it's just so new that they have yet to produce consumer versions that can be purchased at the moment?
Either way, the SteamOS still isn't complete, so buying a console-style mini-PC in hopes of playing PC games the way you play and enjoy console games on TV isn't the wisest thing at the moment. Once Valve brings a more stable version of the SteamOS to the market – with proper media functionality and connectivity support – it will definitely improve the grandeur of having a PC being the living room media center.
You can keep an eye on the Gigabyte Brix by paying a visit to the official Gigabyte website.
Staff Writer at CinemaBlend.
Your Daily Blend of Entertainment News
Thank you for signing up to CinemaBlend. You will receive a verification email shortly.
There was a problem. Please refresh the page and try again.