Godzilla Smashes Up PS4 And PS3 Today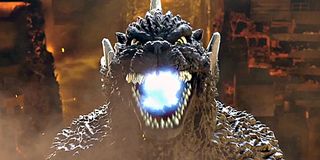 The king of the monsters has returned to wreak havoc on enemy kaiju and cities alike as Bandai Namco's Godzilla unleashes its fury on the PlayStation 3 and PlayStation 4.
Developed by Natsume Atari Inc, Godzilla is a celebration of 60-plus years of monster-sized mayhem, boasting missions and battles pulled straight from around 30 films starring the legendary lizard. Both the PS4 and PS3 versions of the game launch today through the PlayStation Network.
"As Godzilla, players will have the power to trample and lay waste to cities," reads a launch announcement from the publisher. "Players will also have to collect G-Energy, which can be used to power-up Godzilla, increasing his physical size as well as his offensive and defensive skills."
While PS3 fans will be able to enjoy controlling Godzilla and his many different iterations through the campaign, the PS4 version of Godzilla comes with the added bonus of being able to take on the role of any kaiju in the game in every mode available. And when I say "many different iterations" of the star of the show, I mean pretty much every version of Godzilla from his 1964 debut on up to the 2014 American reboot now known as "Hollywood Godzilla." There are also more than 20 different kaiju for players to take control of, boasting everything from Mothra and Rodan to Kiryu and Anguirus.
Since Godzilla was made in honor of the movies, you'll also be able to turn on a "movie-style camera," which will dynamically pick the most dramatic angle to show you the action as it unfolds.
According to Bandai Namco VP of Marketing Eric Hartness, Godzilla is a game made with the fans in mind.
"For over 60 years Godzilla has sparked the imaginations of millions of fans and has been one of Japan's most famous and favorite pop culture exports to the West," Hartness said. "With the Godzilla video game, we're writing an exciting new chapter in Godzilla's history, enabling fans to play as their favorite monster and truly experience his incredible strength and destructive power."
While there are plenty of largescale brawls to be had in Godzilla, don't go in expecting an engine similar to Mortal Kombat or Street Fighter. This game is built to recreate the classic films, so movement and attacks will be a bit more deliberate than traditional fighters. As for game modes, Destruction Mode tasks players with laying waste to 20 environments, while Diorama Mode lets you set up buildings and kaiju for an epic photo shoot. There's also a King of the Monsters mode, pitting Godzilla against a slew of enemy kaiju. Another bonus for the PS4 crowd is a three-player online mode, letting a trio of monsters duke it out at once.
For more information on Godzilla's launch, check out the official website.
Your Daily Blend of Entertainment News
Staff Writer for CinemaBlend.