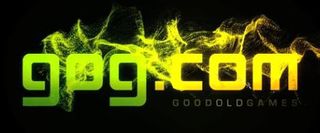 Digital store Good Old Games is re-launching today. Instead of specializing in retro games, the site will now offer a selection of new games as well. To reflect this change, they'll now be known simply as GOG.com.
"Don't worry, no matter how new we're getting, GOG.com will always stick to our three core values: No DRM, Fair Pricing, and Love for our GOG-ers," said the site. "Newer means simply newer games, whether they're big, recognized names, indie games, day-one releases, or pre-orders. Pre-order for Legend of Grimrock for only $11.99 today, or pick up Trine and The Whispered World right now; Spacechem, Machinarium, and Darwinia are coming soon. We have more than 20 great indie and newer games signed on GOG.com that will be showing up in the next few months."
New games aren't completely unexplored territory for GOG. They already sell Witcher 2 through the site. However, that's only because it was developed by the same company (CD Projekt) that runs GOG.
The site also plans to do a little spring cleaning. The website's layout has been redesigned to be more "modern." The My Account page now has new organizational features and a search tool. A new GOG.com downloader allows players to more easily download patches and other extras. The downloader will also keep users notified about changes to their games as well as personal messages or forum replies they've received
"As the world changes, so are we, and this is only the beginning. As always, we rely heavily on user opinions and wishes. A new revamped Community Wishlist now allows users to suggest, vote, and discuss games and site features they'd love to see on GOG.com. You make all of this possible. Thank you and stay tuned for more amazing in coming days, weeks, months, and years to come."
Your Daily Blend of Entertainment News
Staff Writer at CinemaBlend.