Grand Theft Auto 5 Pre-Order Now Available, Next Trailer Coming Soon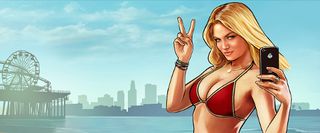 Starting today, you can reserve your copy of Grand Theft Auto 5. The latest installment in the open-world crime series is now available for pre-order at various major retailers.
Here in the United States, you can pre-order at GameStop, Amazon, Best Buy, or Walmart. The Rockstar Warehouse will start accepting pre-orders sometime this afternoon. UK gamers can choose between GAME, Play, Zavvi or HMV for now.
At the moment, you can pre-order the game on the PS3 and Xbox 360. Those are the only platforms confirmed for the game thus far. It's plausible that Rockstar will release a PC version as well but it might not be available in Spring 2013 like the console editions.
Rockstar was supposed to release the second trailer for GTA 5 last week. However, Hurricane Sandy wreaked havoc in the company's hometown of New York and they were forced to push back the great unveiling. On the Rockstar blog, they stated that the trailer is coming "very soon." They declined to narrow down that estimate any further, though
Thus far, only the standard edition of GTA 5 is available for pre-order. Rockstar hasn't announced whether the game will get a Collector's Edition yet. If GTA 4 is any indication, it probably will.
Staff Writer at CinemaBlend.