Grand Theft Auto IV: The Complete Edition Revealed By Retailers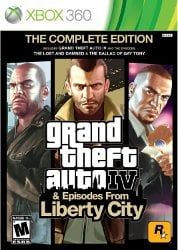 It seems the holiday season won't pass without a Grand Theft Auto release. Retailers are now listing a "Complete Edition" of GTA IV.
GTA IV: Complete appears on Gamestop.com as well as Amazon. The latter actually has box art for the bundle. The art states that the Complete Edition includes GTA IV as well as its two downloadable expansions, The Lost and Damned and The Ballad of Gay Tony.
The retailers state that the bundle will cost $39.99. It will hit the PS3 and Xbox 360 on October 26th.
Staff Writer at CinemaBlend.
Your Daily Blend of Entertainment News
Thank you for signing up to CinemaBlend. You will receive a verification email shortly.
There was a problem. Please refresh the page and try again.