Grand Theft Auto: Liberty City Now Available On Mobile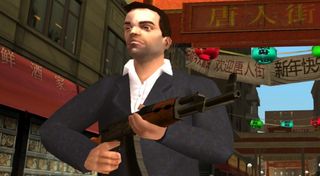 Rockstar Games has been making it a regular habit to re-release Grand Theft Auto games on mobile devices. The latest game from their stash is an upgraded version of the PSP game, GTA: Liberty City Stories, which is available on iOS devices and is set to come soon to Android and Amazon Fire devices.
Shacknews posted up the new launch trailer for the game, showing off some of the upgrades for the game, including the improved shadows, upgraded lighting and refined controls. Of course, the refined controls are hard to gauge through a trailer, but you can check it out below.
There's also a bonus for those who register their Rockstar Social Club accounts to GTA: Liberty City Stories. You'll receive a free bonus t-shirt that you can wear in GTA Online that says "I Heart LC".
It's a minor thing for people who really like collecting things or just want some free stuff from a GTA companion game.
It's interesting because this game is a decade old and Rockstar reached deep into their catalog to pull this one out for the general public. A lot of gamers were hoping this game was going to be released for PC or the newer game consoles as an updated standalone, but Rockstar played their cards safe by re-releasing it on mobile devices like Apple's iPhone and iPad, and soon for Samsung's phones and tablets.
A version of Liberty City Stories did make it on the PlayStation 2 but it was barely a step up from the PSP. According to VGChartz the game's graphical limitations certainly didn't stop it from selling like crazy. The title managed to move approximately 7.6 million SKUs for the PSP, give or take. The title did an additional 3.5 million copies for the PlayStation 2 a year later in 2006, putting it at close to 11 million retail units sold. That's pretty darn impressive, actually.
GTA: Liberty City Stories was a game a ton of PC and Xbox gamers wanted along with GTA: Vice City Stories. However, for whatever reason, Rockstar has not ported over those portable titles to the Xbox and PC. Then again, they had to deal with a lot of licensing issues due to the music used in both games, and it was something that even held up the digital availability of GTA: Vice City on Steam.
As for GTA: Liberty City Stories, the game recycled a lot of the assets of GTA 3 from the PS2 and follows a prequel story to the events of GTA 3 involving gangster Tony Cipriani. The mobile port runs new HD assets, and certain devices powerful enough will run the game at 60fps. You can pick up a digital copy of the game right now for iOS compatible devices from the iTunes App Store, and you can look for the game to arrive on Amazon and the Google Play Store soon.
Your Daily Blend of Entertainment News
Staff Writer at CinemaBlend.