GTA 5 PC Mod Takes Players To Liberty City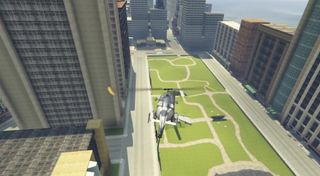 The mods for GTA V just keep getting better and better, and they're coming out faster than I ever would have imagined. The latest map mod for GTA V is an import of Liberty City from Grand Theft Auto III, and you can see a brief flyby of the map in a video provided by YouTuber taltigolt.
He explains in the comment section of the video that the map is incomplete and it's not widely available to the public yet. That's why he spends so very little time flying around the map and overlooking so very few segments of Liberty City before taking to the water and driving the boat around.
I'm not entirely sure what parts of the city are unfinished; it could be Staunton Island that's not quite complete and therefore it was left out of the video to avoid showing a map in its beta phase. Then again, it could be other factors as well, such as memory problems, graphical glitches or other map compatibility problems preventing the whole thing from showing up right proper.
In any case, some of the YouTube comments reflect disappointment in not being able to see the entirety of Liberty City from GTA III running in the RAGE tech for GTA V. I was actually kind of surprised that some of the downtown was still recognizable and the mimic of central park was still quite visible. These landmarks were made bigger and more interactive in GTA IV, where the massive city worked as a playground for all sorts of player antics. One of the most notable things about GTA IV was just being able to walk around and sometimes talk to people who had random missions for you. I doubt we'll see that level of dedication brought to GTA V through the map imports, but then again the modders are moving extremely fast in how much content they're porting over into Rockstar's open-world crime-drama compared to what they were able to do the first year out with GTA IV.
In fact, even though GTA V was nearly two years delayed on PC compared to the Xbox 360 and PS3 release, modders are already more advanced in their stages of modding the game compared to where GTA IV was in its second year of availability on the market for PC.
The only thing missing from the modding scene in GTA V is model imports. However, it appears as if that may be coming sooner rather than later now that map imports are a thing.
Part of it could be that the encryption process Rockstar used made modders angry enough to dedicate even more time and energy into bringing the mod scene to life for the game, and another part of it could be that all the experience these modders have gained from working on GTA IV has helped them make headway for the latest outing in a far faster way.
With a Vice City conversion on the way, London being converted, and Liberty City in the works, it won't be long before we see Los Venturas added to the pack.
Staff Writer at CinemaBlend.
Your Daily Blend of Entertainment News
Thank you for signing up to CinemaBlend. You will receive a verification email shortly.
There was a problem. Please refresh the page and try again.