Grand Theft Auto: San Andreas Remake Confirmed For Xbox 360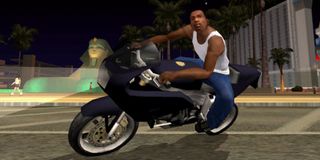 The rumors of a Grand Theft Auto: San Andreas remake were true. Rockstar Games has announced an updated version of the game for Xbox 360 in honor of its 10th anniversary.
GTA San Andreas was initially released on the Xbox 360 back in 2008. However, that was a straight port of the Xbox Original edition. The new remake replacing that port on Xbox Live features 720p resolution with enhanced draw distance. It also includes the following Achievements (via Rockstar Support):
Getting Started - Meet up with the crew and escape the Ballas.
The End of the Line - Beat the game.
Represent - Purchase a Grove Street tattoo
Hustle some - Win a game of pool
A Legitimate Business - Export all three car lists
The American Dream - Purchase your first house
Get a Pump - Workout your arms or chest.
Pay 'n' Spray - Handle the heat with a new paint job
Bike or Biker - Complete BMX or NRG challenge
Beat the Cock - Win the Beat the Cock marathon
Metrosexual - Spend $6,969 on clothes, hair, and tattoos.
School's Out - Fully complete a vehicle school
Serial Offender - Get arrested 50 times.
Freight Date - Take the train between cities
Horror of the Santa Maria - Drown
Assert Yourself Next Time - Fail a mission
What the City Needs - Master Vigilante Mode
Savior - Master Paramedic Mode
Rescue a Kitten Too? - Master Firefighter Mode
Yes I Speak English - Master Taxi Mode
Trickster - Master Pimping Game
Time to Kill - Watch Credits to the end
There are also 11 secret Achevements, presumably from major plot points in the campaign. That brings the total to 33 in total.
If you bought the Xbox Originals version of GTA San Andreas, you'll still be able to access it. However, if you want to access the new features of the remake, you have to buy it. Furthermore, your save files from the Xbox Originals San Andreas won't carry over to the new version.
The GTA San Andreas remake will hit Xbox 360 on October 26th. Rockstar Games didn't mention the price of the re-release. I'd imagine it's no more than $20. I mean they added some bells and whistles but we're still talking about a 10-year-old game.
San Andreas is set in the 1990's. CJ returns to his hometown of Los Santos following years in Liberty City. He must help his old gang, the Grove Street Families, withstand attacks from rival gangs and the police. Grove Street Families' fight for survival will take CJ from Los Santos to the neighboring cities of San Fierro and Las Venturas.
The game was a fan-favorite because of its impressive scope. Players were able to explore a vast map, which included not only three cities but also the wilderness and small towns between them. They could traverse this world using a wide range of vehicles including fighter jets, boats, bicycles and helicopters.
Rockstar will also celebrates San Andreas' anniversary with a special GTA Online event with exclusive rewards.
Your Daily Blend of Entertainment News
Staff Writer at CinemaBlend.