Grand Theft Auto V's PC Edition Will Feature Brand New Music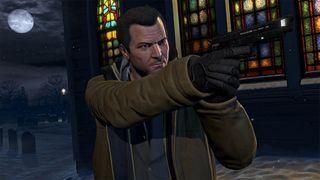 Grand Theft Auto V will make its PC debut next month, and the anti-console crowd will pick up an extra-special perk: new tunage.
Yesterday, Rockstar Games announced a new in-game radio station for PC gamers. "The Lab" will feature original music from The Alchemist, Oh No, Woody Jackson, and Tangerine Dream, along with a number of other artists. The entire collection will be released as a stand-alone album called The Alchemist and Oh No Present: Welcome to Los Santos.
Here's how Rockstar describes the project:
Rockstar Games's director of music, Ivan Pavlovich, was excited to work with Alchemist and Oh No. Though, in an interview with Vanity Fair, he makes the project sound like it was the result of a particularly hostile dare:
This isn't the first time The Alchemist, Oh No, Woody Jackson, and Tangerine Dream have worked with Rockstar Games. Grand Theft Auto V's original soundtrack was produced by the same crew, and the artists also collaborated on Red Dead Redemption, L.A. Noire, and Max Payne 3. Rockstar loves these guys, which is understandable.
The Alchemist and Oh No are two of the most prolific artists in hip-hop. They've been performing together under the Gangrene moniker since 2010. In that time, they've managed to produce six records as duo while keeping their individual projects and other collaborations afloat.
Tangerine Dream is a German electronica outfit that's helmed by Edgar Froese. The group was founded in 1967 and has managed to crank out 103 albums, 76 compilations, and 12 EPs.
In 2010, Woody Jackson won a Spike Video Game Award for his work on Red Dead Redemption, but he's also scored a handful of Hollywood soundtracks. His credits include Ocean's Twelve and The Devil Wears Prada. As a musician, he's played with artists like Tenacious D, Barbra Streisand, and Beck.
PC gamers will get their hands on Welcome to Los Santos when Grand Theft Auto V hits the shelves on April 14th. And Mass Appeal Records is publishing a stand-alone version on CD, vinyl, and digital formats, which will hit shelves on April 21st.
In the mean time, check out the first single:
Your Daily Blend of Entertainment News
Thank you for signing up to CinemaBlend. You will receive a verification email shortly.
There was a problem. Please refresh the page and try again.