Guacamelee Body Slams PSN Sales In April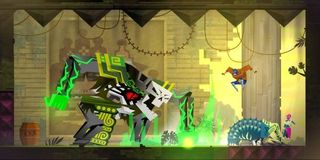 It was a busy month for video games in April, but one title managed to body slam, elbow drop and pin the competition on the PlayStation Network and PlayStation Vita. And that game is…*dramatic mariachi guitar line*…Guacamelee.
Each month, Sony lists the top-selling games for its various platforms and sub-groups through the PlayStation Blog. In April, DrinkBox Studios' luchador-infused Metroidvania game, Guacamelee, became king of the hill for both the home and portable console. Those figures may be bolstered by the fact that Guacamelee was a cross-buy title, but still, the game apparently sold mucho copies.
Dark multiplayer hunting game Soul Sacrifice also did well on the Vita while you'll likely notice multiple games from the Grand Theft Auto series popping up on various lists.
Following are PSN top-five sellers for the month of April. For more details and longer lists, visit the linked blog post.
PSN Games
1. Guacamelee
2. Tomb Raider
3. Terraria
4. Grand Theft Auto IV
5. Borderlands 2
Vita Games
1. Guacamelee
2. Soul Sacrifice
3. Dragon Fantasy Book I
4. Atelier Totori Plus
5. Urban Trial Freestyle
PS3 Add-ons
1. Call of Duty: Black Ops II Nuketown Zombies Map
2. Call of Duty Black Ops II Revolution
3. Borderlands 2: Ultimate Vault Hunter
4. Skyrim Hearthfire
5. Skyrim Dawnguard
PlayStation Mobile Games
1. Beats Trellis
2. Quiet, Please!
3. Castle Invasion
4. Switch Galaxy
5. Snake
PS2 Classics
1. GTA: San Andreas
2. GTA: Vice City
3. Bully
4. GTA: Vice City Stories
5. GTA: Liberty City Stories
PS1 Classics
1. Resident Evil 2
2. Resident Evil 3: Nemesis
3. Resident Evil Director's Cut
4. Final Fantasy VII
5. Final Fantasy IX
PSP Games
1. GTA: Vice City Stories
2. Black Rock Shooter: The Game
3. GTA: Liberty City Stories
4. God of War: Ghost of Sparta
5. Monster Hunter Freedom Unite
PS Minis
1. The Impossible Game
2. Monopoly
3. Jetpack Joyride
4. One Epic Game
5. Carnivores: Dinosaur Hunter
Your Daily Blend of Entertainment News
Staff Writer for CinemaBlend.
Your Daily Blend of Entertainment News
Thank you for signing up to CinemaBlend. You will receive a verification email shortly.
There was a problem. Please refresh the page and try again.