Guacamelee, Tomodachi Life Demo Make Friends With Wii U And 3DS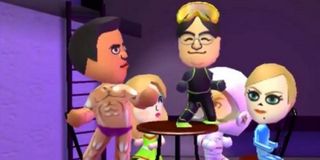 This week's batch of Nintendo updates is all about friendship and luchadors as games like Tomodachi Life make their way to the 3DS and Guacamelee! Super Turbo Championship Edition puts the Wii U in a headlock.
It's Independence Day for those of us living in the States, and what better way to spend the holiday than with your friends? And by "friends," I of course mean the virtual representations of your closest pals, as well as celebrities and fictional characters. I am of course talking about Tomodachi Life for the Nintendo 3DS, an off the wall life simulator that lets you fill an island with the Miis of various people and enjoy the crazy antics they get into. Already released a couple of weeks ago, the only way you could enjoy the game's demo before now was to download it from a friend who already had the game. That's being done away with now, as the game's demo is finally available on the eShop.
Tomodachi Life is unique in that it lets you create your own Mii, give them a "voice," and then fine-tune their personality to create more interesting interactions with other characters. While you're carrying out odd jobs for these Miis and trying to expand your dream island, the Miis who inhabit it will carry on with their not-so-normal lives, playing games, going out on dates and just having a good time. The draw comes in seeing how these digi-folks interact, so your mom might break out of her shell and start singing karaoke in a scuba suit while your best friend and their favorite actor might fall in love. Additional Miis can be gathered via QR codes, and there's already hundreds available for just about everyone you can imagine. If there isn't, just make it yourself and share it with the rest of the world.
Also arriving on the 3DS this week is Squids Odyssey, an action RPG that sees the player controlling an army of colorful squids as they defend their home from a bunch of evil crabs and shrimps. It turns out Odyssey is a compilation, actually, combining content from Squids and Squids Wild West, as well as some brand new content.
Other new titles on the 3DS include Bike Rider DX2: Galaxy, City Mysteries, Glory of Generals and Mysterious Stars: A Fairy Tale. And don't forget about the Atlus sale, which will see discounts on Etrian Odyssey Untold: The Millennium Girl and Etrian Odyssey IV: The Legends of Titan from July 7 through July 21.
As for the Wii U, the big draw this week is the launch of the upgraded version of Guacamelee!, a bright and fiery Metroidvania-style game that sees the player taking control of a legendary luchador on his quest to pile drive a collection of evil-doers who are terrorizing his village.
Guacamelee! will be joined by the platforming adventure, Armillo, as well as the latest addition to the Virtual Console, Mario Tennis: Power Tour, and additional games, Bombing Bastards, Internal Invasion, Poker Dice Solitaire Future and ZaciSa's Last Stand.
Staff Writer for CinemaBlend.
Your Daily Blend of Entertainment News
Thank you for signing up to CinemaBlend. You will receive a verification email shortly.
There was a problem. Please refresh the page and try again.