Guild Wars 2 Pre-Purchase Now Available, Offers Beta Access And Headstart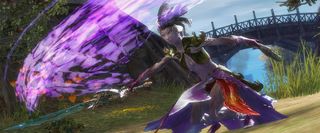 Today NCsoft opened up their MMORPG Guild Wars 2 for pre-purchase. Pre-purchasing any edition of GW2 will give you the chance to play the game early.
Every player who pre-purchases GW2 will get access to every beta weekend from now until launch. They'll also get a three day headstart on the final version of the game. An in-game item called Hero's Band is part of the bonus package as well.
There are three editions of the game available for pre-purchase. The $59.99 Standard/Digital Edition only comes with the game itself and the bonuses mentioned above. The $79.99 Digital Deluxe Edition also gives you these in-game extras:
Summon Mistfire Wolf Elite Skill - "This unique elite skill allows the player to summon a temporary Mistfire Wolf pet for use in combat."
Rytlock Miniature - "This rare miniature is a perfect replica of Rytlock Brimstone and will accompany your character on all of their adventures throughout Tyria."
Golem Banker - "Your very own golem banker, at your command for 5 days! This mechanical man-servant will grant you access to your account storage from anywhere in the world."
Chalice of Glory - "Earn some extra Glory with this one-time use chalice. Use Glory to unlock rewards in PvP as well as compare your progress against other players."
Tome of Influence - "Give your guild a one-time boost of influence. Useful for unlocking guild vaults, emblems and other items for your guild."
The next step up is the $149.99 Collector's Edition. It includes everything in the Digital Deluxe package as well as these items:
10-inch figurine of Rytlock
112 page Making of Guild Wars 2 book
Custom Art Frame
Art Portfolio and Five Art Prints
Best of Guild Wars 2 Soundtrack CD
The game will also be available for pre-order through select retailers. However, you won't get as many perks as a pre-purchase customer would. A pre-order will allow you to start playing the game a day before it officially launches.
NCsoft has yet to announce a release date for GW2. It's expected later this year, though.
Your Daily Blend of Entertainment News
Staff Writer at CinemaBlend.