Halo 5 Release Date Announced By Agent Locke, Master Chief Trailers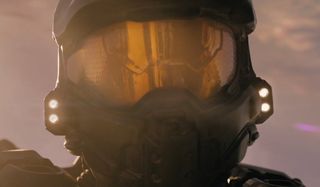 Two new Halo 5: Guardians trailer debuted last night during the season finale of The Walking Dead. The trailers revealed, among things, the release date for the Xbox One exclusive shooter.
In the first trailer, called "All Hail," Spartan Locke (introduced in mini-series Halo: Nightfall) steps through the rubble of a city. He approaches a badly wounded Master Chief laying underneath a statue of himself. Locke pulls out his pistol and prepares to shoot Master Chief.
"All hail the conquering hero, the one who was supposed to save us all," Locke says. "But now I must save us...from you."
The second trailer, "The Cost," flips the scenario around. Now, it's Agent Locke on the ground with Master Chief standing over him with a pistol. He gives a farewell message of his own.
"Is this what you wanted? Is this what you were looking for? Was everything you compromised, everything you've done, worth it? Was it? You've completed your mission, Spartan Locke. Mine is just beginning."
Both trailers end with a release date. Halo 5 will be launching worldwide on October 27th, 2015 exclusively on Xbox One.
The relationship between Spartan Locke and Master Chief is one of the biggest mysteries about the game's plot. Michael Colter, voice actor for Locke, previously revealed that his character is hunting Master Chief in Halo 5. We don't know why, though.
"You won't know what the purpose of finding Master Chief is [right away]," Colter said. "Or what will happen if we do find him, what condition he will be in, and where he's at mentally. But I'm sure that'll be a plot twist in Halo 5."
The first trailer above suggests that Master Chief betrayed mankind somehow, or that others think he did. The conflicting perceptions of Master Chief - hero and traitor - are being explored through a weekly audio series called "Hunt the Truth." In the podcast, journalist Benjamin Giraud (played by Keegan-Michael Key of Key and Peele) investigates the super-soldier and tries to find out whether he's really friend or foe.
While the podcast may clear up some questions we have about Master Chief, I'm sure that we'll learn even more about Halo 5 at E3 2015. As Xbox One's biggest fall release, the game's no doubt going to be the centerpiece of Microsoft's press conference.
Staff Writer at CinemaBlend.
Your Daily Blend of Entertainment News
Thank you for signing up to CinemaBlend. You will receive a verification email shortly.
There was a problem. Please refresh the page and try again.