Halo: Master Chief Collection's Bloodline Map Is Coagulation Remake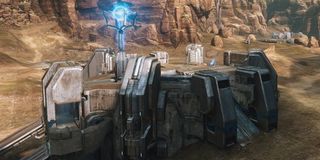 Halo: The Master Chief Collection's multiplayer will include a remake of the map "Coagulation" from Halo 2. 343 Industries gave gamers a tour of this map, now called "Bloodline," with new screenshots and a trailer today.
The original version of "Coagulation" was a remake of Combat Evolved map "Blood Gulch." It's a symmetrical map with two identical bases on either side of a massive canyon. The large open spaces in the map make it well-suited toward sniping and vehicles. "Blood Gulch" proved so popular that it inspired remakes in Halo 3, Halo Wars and Halo: Reach as well.
343 Industries says that "Bloodline" incorporates a lot of the elements of "Coagulation" and the other "Blood Gulch" remakes. There are also some new features. For example, UNSC Hornets (attack aircraft introduced in Halo 3) will spawn behind both bases. A new bridge to the side of the base gives some extra cover for attackers or defenders.
"Of course, Bloodline is still a sandbox Halo playground, and vehicles are a huge part of that," 343 said on Xbox Wire. "Consequently, the addition of an EMP at each base works as a defense against the inevitable Warthogs and Hornets zooming in for the kill. And if two bases isn't enough for you, Bloodline even features a midfield base – complete with Banshee and Warthog, ensuring lots more hectic mayhem in the canyon."
"Bloodline" is one of six multiplayer maps rebuilt from the ground up with new features by Certain Affinity and 343 Industries. The other maps getting this full makeover include "Lockdown" (originally Lockout), "Shrine" (Sanctuary), "Stonetown" (Zanzibar), "Warlord" (Warlock), and "Zenith" (Ascension). The rest of the Halo 2 multiplayer maps are also included with the Master Chief Collection but have only been updated to 1080p visuals.
Halo: The Master Chief Collection will launch exclusively on Xbox One on November 11th in most countries. 343 Industries will hold a special HaloFest event the day before that. During HaloFest, they'll show the first gameplay footage from Halo 5 and an episode from live-action series Halo: Nightfall.
Image 1 of 3
Your Daily Blend of Entertainment News
Staff Writer at CinemaBlend.