Halo 5 Multiplayer Will Be Unveiled At HaloFest 2014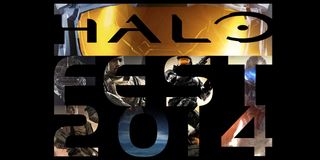 Halo fans can see some gameplay footage from Halo 5: Guardians very soon. 343 Industries will show off the game's multiplayer during HaloFest 2014 next month.
On November 8th and 9th, 32 eSports stars will compete in a Halo: The Master Chief Collection Launch Invitational. They'll be playing the multiplayer from Xbox One remake Halo 2 Anniversary. The tournament, hosted by ESL, will offer up to $50,000 in prizes. These players are also fighting for the right to be the first to play Halo 5.
The top players from the Invitational will then battle each other in Halo 5's multiplayer at the Avalon Theater in Los Angeles on November 10th. Gamers throughout the world can watch the livestream at Xbox Live, Xbox.com and Twitch. The stream officially begins at 8 pm Pacific Time. I'm sure that the footage will be recorded and posted to every corner of the Internet shortly afterward, too.
This Halo 5 exhibition match will be just one component of an night-long event called "HaloFest 2014." This year's HaloFest will also feature interviews with members of 343 Industries including studio head Bonnie Ross, franchise development director Frank O'Connor, and executive producers Dan Ayoud and Josh Holmes. With any luck, they'll drop some juicy details about Halo 5. The game's still a year away, though, so they may play it coy.
The cast and crew of Halo: Nightfall will be in attendance as well to chat about the live-action series. During the event they'll premiere the first episode from the series. Nightfall stars Agent Locke, an ONI Agent who will appear in Halo 5's campaign as a playable character. To prime gamers for the Nightfall debut, 343 released a new trailer from the series today:
Halo: The Master Chief Collection will launch in most countries worldwide the day after HaloFest. The Xbox One exclusive bundles together the first four Halo games starring Master Chief. It also includes the full Nightfall series as well as access to the Halo 5 beta. The beta is scheduled to launch on December 29th.
The Master Chief Collection is currently available for digital pre-order and pre-download. Preloading is a good idea as the compilation is rather enormous and also requires a hefty day one patch.
This poll is no longer available.
Staff Writer at CinemaBlend.
Your Daily Blend of Entertainment News
Thank you for signing up to CinemaBlend. You will receive a verification email shortly.
There was a problem. Please refresh the page and try again.