Hearthstone Beta Season 2 Launches Today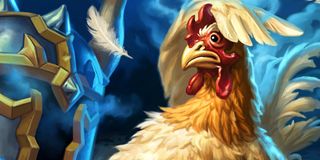 Update 1: Season 2 is now live in North America and China. Other territories are still waiting.
Update 2:: The second season should be live worldwide now. Best of luck on your journey to Legend rank.
Original article: Today a new season of Hearthstone: Heroes of Warcraft competition will begin. Blizzard has brought down the servers for maintenance in preparation for the launch of Test Season 2.
The exact length of the maintenance is subject to change. Here's how long Blizzard plans to have the servers down, though:
North America: 10:00 AM - 12:00 PM PST
Europe: 5:00 PM - 7:00 PM PST
Korea/Taiwan: 1:00 PM - 3:00 PM PST
China: 12:00 PM - 2:00PM PST
When the servers are back on, Test Season 2 will officially begin. All players' rankings will be reset to Angry Chicken, the lowest of 25 ranks in the game. Card collections and character levels, however, won't be reset. Blizzard already wiped progression once in the beta and has promised never to do it again. Any cards or levels you've earned in Hearthstone will carry over into the open beta and official launch.
Hearthstone is still in closed beta. Blizzard wanted to begin the open test in December but was forced to delay its launch until 2014. They still have some fixes and balance changes that they want to make to the game. No launch date has been provided for the open beta but Blizzard says it's "very close."
Beta access has been granted to players who either won a giveaway or registered for the test through their Battle.net account. Blizzard disabled opt-ins for the beta on Tuesday. Anyone who opted in before Tuesday is guaranteed to receive an invite before the open beta's launch.
"We currently plan to invite all remaining opt-ins via direct account flagging and it will be done as one large wave. This invite wave has not yet happened, as we are still compiling the full list of accounts to be flagged. A notice will be sent once the wave happens," community manager Aratil said on the Battle.net forums yesterday. "Once the accounts are flagged, the Hearthstone license should show up in Battle.net Account Management."
If you opted into the beta awhile ago and haven't received an email invite, Blizzard recommends checking your spam or junk folders. Gmail users should also check the Promotions tab. Your invite could be languishing in one of those places.
Hearthstone: Heroes of Warcraft is an online collectible card game. Players assemble decks featuring character, spells and items from Warcraft lore and then face each other in duels. There are also A.I. opponents to help players sharpen their skills. The game is free-to-play but booster packs and passes to Arena mode can be purchased for real-world money. You can find out more about the game by reading my preview.
Your Daily Blend of Entertainment News
Staff Writer at CinemaBlend.
Your Daily Blend of Entertainment News
Thank you for signing up to CinemaBlend. You will receive a verification email shortly.
There was a problem. Please refresh the page and try again.