Here's Why The New Tony Hawk Game Looks Different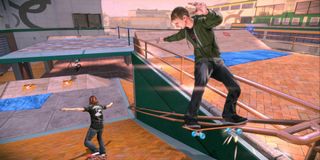 The latest look at the upcoming Tony Hawk's Pro Skater 5 had fans scratching their heads at the multiple changes within.
GameSpot reports on why the new screenshots from the skateboarding title look so bizarre, involving what looks like cel-shading. Because the changes happened so late in the game's development cycle and it seemed as though developer Robomodo was deliberately making changes, fans were quizzical about the entire thing.
The CEO of Robomodo, Josh Tsui, stressed to GameSpot about THPS5 that the changes were entirely out of necessity, at least when it comes to performance, and that the team has "always been confident in the look they were going for." Tsui attested that the game needs to run at 60fps at 1080p, even with 20 people playing online together at the same time. He continues:
"We achieved that, so now fans are seeing a better-looking game."
But is the game really better-looking? It's cel-shaded, which is a pretty big departure from the graphics that we saw a few months ago, and many would say this is more of a downgrade than anything else. To add what seems like insult to injury, Tsui insisted that this change was not due in any part to fan feedback from the first look gamers had at Tony Hawk's Pro Skater 5. He even went s far as to say the look isn't truly cel-shaded:
"I wouldn't describe the new style as cel-shaded, it's just more detailed and vibrant. Perhaps you can say it's more over-the-top--the lighting has been improved and we've pumped up the game's colors. Also, details like motion blur, depth of field, and outlining were tweaked, in the interest of improving the player's focus on the skater and nearby obstacles and terrain."
It's an interesting response, as if cel-shading were something to be ashamed of. It's got a unique look, if done right, but the models in what we've seen of Tony Hawk's Pro Skater 5 don't exactly dazzle.
As stated before, they look rather muddy, and the outline around the characters is a bit bizarre. But at the very least Robomodo is going for something different. Tsui attests that any visual alterations would be expected, since it's been so long since we saw the original game.
For some reason it sounds a bit defensive, and I'm not exactly buying it. But I'm extremely curious about the game, especially since I grew up collecting VHS tapes and grinding as much as humanly possible to see how many points I could pull off. Those were the only tricks I was good at. I guess we'll have to see what the finished game shows us when it makes its debut on September 29.
Your Daily Blend of Entertainment News
Thank you for signing up to CinemaBlend. You will receive a verification email shortly.
There was a problem. Please refresh the page and try again.