Tony Hawk's Pro Skater 5 Won't Have Multiplayer On PS3 And Xbox 360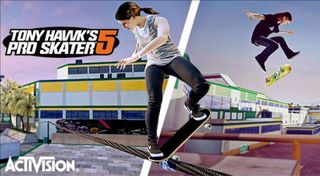 A new report indicates that Tony Hawk's Pro Skater 5 won't feature online multiplayer functionality for the Xbox 360 and PS3 renditions of the upcoming game from Activision.
How was this information acquired? Well, Videogamer.com reached out to Activision and the company confirmed to them that the seventh generation home consoles, the Xbox 360 and the PS3, won't be receiving online multiplayer support. Why? Videogamer tried following up with Activision but didn't receive a response.
The Xbox One and PS4 versions of Tony Hawk's Pro Skater 5 will feature online multiplayer. Gamers will be able to seamlessly go online and get their kicks in with friends and rivals alike.
However, this move does call into question a few things regarding the sustainability of the seventh-gen consoles online components. As some of you know, Microsoft was pretty quick to shutdown the Xbox Live online functionality for the OG Xbox, and that not only disabled online multiplayer for games but also disabled gamers' ability to download DLC, get updates or access certain features of some games that were reliant on the online portion of Microsoft's services.
I tend to doubt that Microsoft and Sony would be quick to shutdown Xbox Live or PSN for the Xbox 360 and PS3 so soon, and I'm not terribly sorry to know that the two consoles won't have online multiplayer support for a newer game, but it does call into question how long the online service support for both consoles will stay in effect?
As some of you already know, there are many games out there that will simply cease to function once Xbox Live or PSN goes down. That's not to mention that a lot of games these days are tied to the online services so much so that you may not get a functioning game without them. I mean, Assassin's Creed Unity needs the online functionality of Xbox Live or PSN if you buy it out of the box because the patches make it playable. Without the patches you're stuck with a game suffering from massive frame stutter as well as frame rates dropping down as far as 23fps. Without Xbox Live or PSN you just don't get to play some games to their full extent due to the reliance on day one patches and post-launch patches.
That's also not to mention that a lot of games have DLC tied to the digital services and unless a game is re-released at retail as a Game of the Year edition, you won't be able to get the DLC otherwise.
However, I tend to doubt that this is the immediate signal of the Xbox Live and PSN demise for the PS3 and Xbox 360. As much as I believe that the seventh-gen consoles are holding back cross-gen games for the Xbox One and PS4, it's still important that Microsoft and Sony support their online infrastructure for people who just want to play the games in their library or expand their library with older titles.
As for Tony Hawk Pro Skater 5... the game will support a create-a-character, including the ability to play as a female, online competitive modes and online cooperative modes. The skate park creator is making a return and the graphics will obviously be fine-tuned to take advantage of the eighth-gen twins. You can look for the game to launch later this year for home consoles.
Your Daily Blend of Entertainment News
Staff Writer at CinemaBlend.