Here's When You Can Expect The Final Uncharted 4 Trailer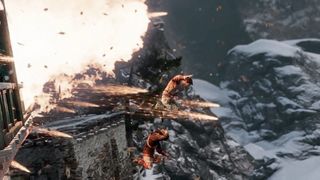 With the release of Uncharted 4: A Thief's End getting nearer and nearer every day, fans have braced themselves for the release of the final installment in the beloved series. Developer Naughty Dog has announced that there will be one last trailer before the game's release in May.
Sony announced that the last trailer for Uncharted 4 will be released tomorrow, April 25, at 7AM PST/10AM EST. You can see their announcement via Twitter below.
While it's sad to see the final Uncharted game from Naughty Dog release its last trailer, it's exciting to think of the kind of amazing experience Uncharted 4 gameplay will offer. Uncharted 4 just recently announced a new multiplayer mode called Plunder, where it takes on the type of gameplay seen in Capture the Flag, only the flag in this game is a precious idol. I am a huge fan of Capture The Flag-like games in video games. One example is the gameplay mode in Team Fortress 2 where you have to capture the other team's briefcase and carry it back over to your team. There's so much strategy and stealth involved in trying to capture the item, that it makes my brain work in a completely different way than it usually does with video games (I hate strategy games, for example). So it's always refreshing to try something new. You can check out gameplay from the multiplayer mode below.
While Uncharted 4 may be the last game in the series from Naughty Dog, creative director Neil Druckmann has said that he wouldn't mind seeing another studio take over to create Uncharted 5. But you know as well as I do that usually when another studio takes over a legendary game series like this, it doesn't always go as planned nor satisfies the fans hunger for more. One prime example of this is Silent Hill Downpour. But it doesn't always happen like that. Tomb Raider was completely redone by Crystal Dynamics and I think it turned out better than I had ever hoped. Lara Croft was defined more as a character and rather seeing her as this infamous video game sex symbol, she was a symbol of strength and endurance, someone who really didn't take anyone's shit. But she also stood as someone who felt more real, who could fall down and get hurt and fight to climb her way back up. So realistically, it will probably just have to be another waiting game, because it'll all depend on what studio decides to tackle Uncharted 5 (which I think is a very daunting project) and what they plan on doing to it.
Uncharted 4: A Thief's End will be releasing on May 10 exclusively for the PlayStation 4. For more information, stay up to date on Uncharted 4's official website.
Your Daily Blend of Entertainment News