The Uncharted Video Game Adaptation Is Having Problems...Again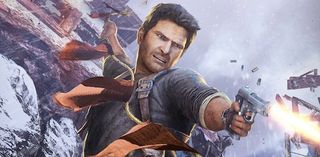 Naughty Dog's Uncharted is one of the most popular and beloved video games in recent years, and while the games are still going strong, Sony's attempt to adapt the action into a major motion picture has been plagued with issues for years. And they just hit another one, as the latest director attached to the project, Seth Gordon, has bailed.
The news of Gordon's exit comes from Heroic Hollywood, though Sony declined to offer comment on the matter, and Gordon's representatives did not respond to subsequent requests for clarification from other outlets. According to a follow up from The Wrap, newly ensconced Sony head Tom Rothman has been considering the brewing project since taking over the reins, and according to the report, while he didn't cut the budget, he decided to take a new "creative direction" with the material. We don't know exactly what that entails, but that is the reason given for the split.
This is just the latest in a very long line of huge speed bumps that Uncharted has experienced along the way from video game consoles to your local metroplex. Like we said, Gordon, who last helmed the comedy Identity Thief with Jason Bateman and Melissa McCarthy back in 2013, is just the most recent in a series of directors to abandon this project. Silver Linings Playbook's David O. Russell was originally attached to direct, with Mark Wahlberg (and maybe Robert De Niro and Joe Pesci) in the lead role, though Russell eventually left after a few years worth of stalled development.
After Russell, Limitless director Neil Burger was tapped to take the big chair, which he eventually vacated after more than a year of work. Gordon replaced Burger in 2014, and now we know how that chapter ends. They've had a similar revolving door when it comes to writers. Russell was handling the script, at one point National Treasure scribes Marianne and Cormac Wibberley had the job, and Seth Rogen and Evan Goldberg were even sought out at one point, though they passed. The Hurt Locker's Mark Boal turned in the latest draft of the script, and at this rate, who knows how many more people will take a whack at this film?
The Uncharted saga follows the exploits of Nathan Drake, a descendent of Sir Francis Drake, who is an adventurer, kind of like a modern day Indiana Jones. Over the course of the games he tussles with pirates, mercenaries, war criminals, and more nefarious forces, and jaunts to exotic locations like the Himalayas, South America, and the Arabian Peninsula searching for lost wonders and awesome stuff.
For now we'll have to wait and see what becomes of Uncharted. Will they hire someone to replace Seth Gordon, or is this the proverbial last straw? The studio has been spinning their wheels on this since at least 2009, with no real progress to speak of, and though people do appear to be interested—including big name acting, directing, and writing talent, as well as fans—at some point you have to wonder if this has become more trouble than it's worth. Then again, if they make Uncharted and it turns a profit, they probably won't bat an eye, and with the source material, this could turn into one hell of an awesome adventure film.
Your Daily Blend of Entertainment News