Here's When You Can Play The Paragon Open Beta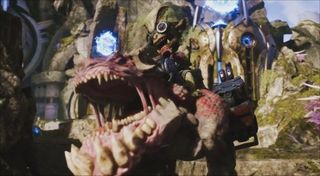 Epic Games' open beta for Paragon will be free for everyone on the PlayStation 4 and PC starting May 26 and running through the weekend of May 30. The only thing that's required is to sign-up for the beta before May 25.
Eurogamer is reporting that the free-to-play MOBA from Epic Games will be recruiting additional testers before May is out, and they need some help in finding bugs, testing skills and measuring the game's balance. The free sign-ups for the open beta are available now over on the official Paragon website.
They also released a video for Paragon, quickly showcasing some of the playable heroes and reminding gamers that the open beta commences next week.
The reason they're really pushing for the "free" in the open beta test is because despite Paragon being free-to-play when it launches in full, right now you have to pay $19.99 to participate in the closed beta testing. It's part of the new wave of testing games, usually known as Founder's Packs.
These packs oftentimes enable players to play a game well ahead of its initial release date to check out some of the core gameplay mechanics before everyone else. It's become rather popular with MMOs lately, especially with Pearl Abyss and Daum Communication's Black Desert Online.
In the case of Paragon, players get to choose from 16 different heroes and partake in 5-vs-5 MOBA action with three lanes of combat, a new kind of map setup with elements of verticality, as well as a more accessible and action-oriented approach to the combat. Essentially the game mirrors third-person shooters more than it does the heavily complex and layered combat and hero micromanagement found in titles like Dota 2 or League of Legends.
As showcased in the trailer above, plenty of the playable heroes focus on projectile-oriented attacks, so there's more of a twitch reflex element involved as opposed to playing the game like a real-time strategy title. For classic MOBAs it makes sense given that the very first Defense of the Ancients was modded on top of Warcraft 3, so the real-time strategy roots are clearly undeniable.
However, Epic Games wants to veer some of the traditional elements of MOBAs away from the typical RTS setup and introduce a more third-person, hardcore shooter element to the genre. Hi-Rez Studios also tried a similar thing with the very popular SMITE, which is available for home consoles and PC.
With the open beta for Paragon arriving around the time when Overwatch will be launching should prove to be interesting from an engagement point of view: will gamers give up playing Overwatch on week-one to test out Paragon? Or will Blizzard have the rest of May in the bag? I guess we'll find out next week.
Your Daily Blend of Entertainment News
Staff Writer at CinemaBlend.
Your Daily Blend of Entertainment News
Thank you for signing up to CinemaBlend. You will receive a verification email shortly.
There was a problem. Please refresh the page and try again.