DOTA 2 Adds Haunted Colosseum Mode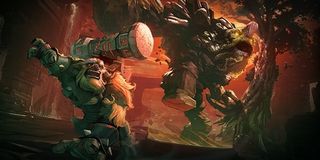 DOTA 2 fans have a spooky treat waiting for them in-game this week: A new custom game mode called the Haunted Colosseum. Obviously it's an early celebration of all things Christmas.
I don't know what it is about holiday content popping up in games that I can't get enough of, but I really love seeing folks like Valve plugging festive surprises into games like DOTA 2. In case you needed an extra reason to boot up the MOBA and dive in this holiday weekend, here's a quick rundown of what you can expect, according to the official website.
n DOTA's Haunted Colusseum, you'll need to capture your enemies' control points throughout the arena. As is typical for these types of modes, your team will earn points when they have control of at least three points. Gain control of four or five points and you'll win the game even faster. The first team to hit 5,000 points wins. Simple enough, right?
But wait, there's more! It wouldn't be a DOTA 2 Halloween celebration without some tricks and treats. Deadly traps are spread throughout the arena, which players can trigger to give their opponents a really bad time. From pendulums and spikes to fire and venom traps, there are plenty of ways to use the Haunted Coliseum's landscape against your foes.
For your effort, you'll earn delicious goodies that boost your health or mana, as well as earn you extra gold to spend within DOTA 2 or power up your hero's items.
And because it can't be a spooky holiday without some monsters showing up, a team that hits 1,000 points will instantly trigger the arrival of a Behemoth; powerful DOTA 2 monsters that are immune to magic. They're definably the kind of ghouls you want fighting on your side.
So is all of this Halloween-themed goodness intriguing enough to steal you away from trick or treating for a few hours? Are there any other games doing holiday events that you're enjoying? Let us know your Halloween gaming plans in the comments section below. As for me, I'm probably going to try to fill up a few extra candy bags to trade them in for new masks in Destiny. After that, I guess I'll go out into the real world for some festive frivolities.
Your Daily Blend of Entertainment News
Staff Writer for CinemaBlend.