Heroes Of The Storm Alpha Test Announced By Blizzard, Check Out The New Gameplay Videos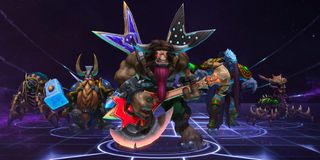 Blizzard is preparing to let players try out their MOBA Heroes of the Storm in a "technical alpha" test. Invites for the alpha will be sent out very soon.
"This initial testing phase is intended to help us better examine how our infrastructure and tech will function across a much broader spectrum of machines and connection types," Blizzard explains on the Heroes website. "What's more, inviting external Alpha testers will allow us to take a closer look at our hardware needs so that we can be absolutely sure we're able to support the entire Heroes population as the community grows."
Because this is a very early version of the game, many features will be missing. Some of the sounds and visuals are merely placeholders. The test might not be for everyone, then. However, Blizzard says that players will be able to try out the game in a more finished state as the development proceeds.
The Heroes of the Storm alpha can be accessed in much the same ways as Blizzard's other tests. You "opt in" by checking the box next to Heroes of Storm in the Beta Profile section of your Battle.net account. To be eligible, you'll have to run a System Check tool that provides your computer's specifications to Blizzard.
"Testers are chosen based on many factors, including your Battle.net region, when you signed up, your computer hardware specifications, and an element of luck," Blizzard says in the alpha's FAQ.
The alpha will be limited to a small number of players in the United States at first. In time, though, Blizzard plans to expand the testing to include more testers and additional regions.
Heroes of the Storm allows players to become heroes and villains from Diablo, StarCraft and WarCraft. The players split into two teams and then battle to destroy each other's base. The alpha version will give players access to several characters, skins and mounts. They can get play a tutorial before they jump into the matchmaking. A progression system will allow them to unlock additional features as they gain experience.
Like Hearthstone, Heroes of the Storm will be a free-to-play game supported by microtransactions. Technical alpha testers will be allowed to spend real-world money. However, they can only spend up to $325. Accounts will be wiped at the end of the test and testers will receive credit on their Battle.net account equal to the amount of money they spent.
There will be no non-disclosure agreement (NDA) in effect for the Heroes of Storm alpha. Expect to see many screenshots and gameplay videos hit the web soon after the test begins. In the meantime, here are a couple new videos released by Blizzard. They show two matches on the Dragon Shire map. In this map, players can free a powerful Dragon Knight and use him to turn the tide of the battle.
Staff Writer at CinemaBlend.
Your Daily Blend of Entertainment News
Thank you for signing up to CinemaBlend. You will receive a verification email shortly.
There was a problem. Please refresh the page and try again.