Homefront: The Revolution's Game Director Leaves Crytek UK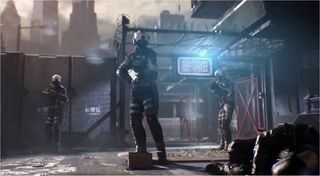 Apparently Homefront: The Revolution is going through a tumultuous time in the development department. The game is having a really rocky time, but not in the way you might be expecting. Usually games may run into design issues or hardware limitations, but in the case of Homefront: The Revolution it's not a software problem, it's a financial one.
Kotaku has been staying on top of the situation regarding Crytek's dire financial situation and how the studio is struggling along at this point, especially now that they've lost their game director.
Hasit Zala used to be the guy in charge of Homefront: The Revolution. He was the one directing the project and ensuring that things moved along on a timely basis, and now he's not.
It's being said that Zala resigned from his post at Crytek UK, the portion of Crytek that is having some huge problems with their finances.
Interestingly enough, this has created such a huge conundrum because, as one source explained to Kotaku...
This is one of the rare times where a game appears to be progressing without a captain at the helm.
Obviously, this situation can't keep moving in the direction that it is because it's now aimless and without the proper management to keep a massive project like this on its appropriate schedule.
The main issue, as it was reported in a previous article, is that Crytek UK employees haven't been paid for quite some time, resulting in lots of low morale and plenty of individuals packing up their bags and going home.
However, this issue isn't just isolated to Crytek's U.K., office. Apparently this issue is also pervasive in the Crytek Germany branch as well, which is the company's main office. There are rumblings, according to Kotaku's report, that paychecks are still being withheld at the Frankfurt office, which means that it's not just an issue that Crytek UK is suffering from but it's something that appears to be studio-wide.
Quite naturally, Crytek and Deep Silver were both reached for comment by Kotaku but they didn't receive a response. Possibly due to it being the weekend? Nevertheless, this definitely puts the future of Homefront: The Revolution in dire straits, as it means that there's no definitive guarantee that the game will finish its development and arrive in time to meet its 2015 release.
The game itself is set to be the spiritual successor for Kaos Studios' original Homefront. The game will play on the same themes and represent the same sort of desperate conflict from a group of American rebels fighting back against their oppressive occupiers.
The game will supposedly be in an open-world environment and will not have any loading times. For now, the game has been pegged to run at 30 frames per second on both the Xbox One and the PlayStation 4.
You can expect to learn more about this situation in the coming weeks, no doubt. For now, you can keep up to date on all things Homefront by paying a visit to the game's official website.
Staff Writer at CinemaBlend.
Your Daily Blend of Entertainment News
Thank you for signing up to CinemaBlend. You will receive a verification email shortly.
There was a problem. Please refresh the page and try again.