Just Cause 3 Gets Explosive First Trailer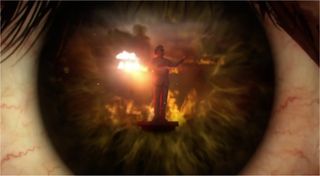 Avalanche Studios released the very first trailer for the upcoming open-world, new-generation, action-sandbox game, Just Cause 3. The title has been highly awaited and we finally get a glimpse at some of the technology powering the title, and oh boy does it not disappoint.
The trailer is just under two minutes but it uses just about every second to pay tribute to the fiery form of destruction. A lot of the commenters on the YouTube page keep popping in to say that it was an homage to the directing style of Michael Bay. I can't disagree with that assessment, although Michael Bay's directed trailer for Need For Speed was strangely lacking in the explosions department. They should have thumbed him for Call of Duty: Advanced Warfare or Battlefield: Hardline instead.
Anyway, the video above doesn't really revel in actual gameplay but mostly focuses on the in-engine capabilities that Avalanche Studios is bringing to the table.
For instance, the video gives us an amazing look at the smoking tire effects on display as the old sports car takes a tumble into the exploding installation. We get to see some very impressive looking smoke trails as well as some cinematic-quality fire effects. Avalanche really went all in on Just Cause 3. The fire effects look more volumetric and full than what we've seen in the past, and this really adds to the game's visual realism and explosive action – well, for as far as what can be gathered and seen in the article.
Additionally, the trailer gives gamers a really sleek look at the new and enhanced physics systems. By new and enhanced, I mean instead of just seeing chunks of polygons fly in every which direction, we have actual small particle chunks independently rendered and reacting to the explosion. It's a beautiful looking thing seeing it in action like that.
For the first time in a long time we're seeing a developer actually push some of the hardware of the seventh generation home consoles... assuming, of course, that the game doesn't get hit with any major downgrades sort of like Watch Dogs before it.
At the end of the trailer get a look at the new, improved and 200% rugged Rico Rodriguez, the lead protagonist of the open-world action title. He's rougher, slightly more scarred and seems to have gone to the plastic surgeon that did work on Big Boss and Sam Fisher.
Sadly, we don't get to see anymore gameplay beyond that. There's a brief tease from the new wingsuit feature, which allows Rico to glide around the stages a lot quicker than before. I just hope the wingsuit doesn't take over the place of helicopters and other means of travel. I think the wingsuit was a nice compliment in Far Cry 4, but we've seen other forms of personal player travel override core features in a game, sort of like the super-powers in Saints Row IV that made airplanes, helicopters and cars pretty much useless.
I'm sure we'll get to see a lot more of Just Cause 3 as the game nears its holiday 2015 release later this year for the Xbox One, PS4 and PC.
Staff Writer at CinemaBlend.
Your Daily Blend of Entertainment News
Thank you for signing up to CinemaBlend. You will receive a verification email shortly.
There was a problem. Please refresh the page and try again.