The Hunger Games Might Get The Video Game It Deserves Soon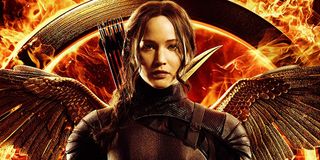 The Hunger Games books and films have made approximately eleventy billion dollars but for some reason, there's never been a serious effort at a Hunger Games video game. As of today, though, that seems much more likely.
Lionsgate, the company behind the Hunger Games films, announced today that they're making a "significant investment" in Telltale Games. Telltale, the developer of The Walking Dead and Game of Thrones adventure games among others, will help Lionsgate create "episodic games and television." These games and shows will be based on both new and existing franchises.
It's pretty easy to imagine what a Telltale-developed Hunger Games video game would be like. The studio has a well-established formula at this point. Their games are story-driven affairs with only a minimum of puzzles or action. Players drive the story forward by choosing their character's dialogue lines. They're also called on to make tough calls that can impact the storyline. For example, they might be asked whether to kill an enemy or spare them.
The developers usually opt to tell their own stories instead of just adapting their source material. Their Walking Dead project followed an all-new group of survivors during the zombie apocalypse rather than simply retelling the story of Rick and the gang. The Wolf Among Us game was a prequel to the comic book series that inspired it. The Hunger Games universe offers plenty of material for an original storyline. The novels and films started with the 74th Hunger Games competition so a video game could be set during any of the previous events.
My mental image of a Hunger Games video game was something like DayZ: a multiplayer action game where players battle for dwindling supplies while forging or breaking alliances with other players. That type of game would only be very narrow compared to the books and movies, though. The Hunger Games trilogy is just as much about the behind-the-scenes politics and interpersonal drama as it is about the games themselves. A Telltale adventure game would be much better at telling a story that takes place inside and outside of the arena.
I'm just assuming that Hunger Games would be one of the fruits of this Telltale/Lionsgate partnership due to how lucrative that franchise is. However, Lionsgate has a lot of other film and TV projects to draw on. Their movies also include Divergent, The Expendables and Saw. Lionsgate's small-screen portfolio ranges from Mad Men to Orange Is The New Black to SyFy's Ascension.
While today's announcement might make fans of The Walking Dead or other Telltale Games concerned about their future, it's worth noting that Telltale is only "co-developing" these Lionsgate projects. Someone else, presumably Lionsgate's new video game division, will be collaborating with them. That leaves open the possibility that Telltale will have time to keep making new seasons for their existing episodic series as well.
Your Daily Blend of Entertainment News
Staff Writer at CinemaBlend.