Syfy's Ascension First Look Promises Murder And Sci-Fi Greatness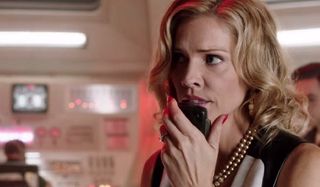 Ascension, the new three-part minseries from Syfy, is set to debut on December 15th, and it looks to be a thrilling and inventive watch. In this first look at the series, we get a little background on just what the Ascension project is about and where we are going to be taken on what looks to be a kick-ass historical journey. Throw in some murder and intrigue, and Syfy may have an interstellar hit on its hands come December.
I was hooked after watching this clip several times and factoring in the historical and scientific events that lead to where the Ascension is in its journey. The clip goes behind the scenes, showing some of the actors discussing their time on Ascension and how wowed audiences are going to be at the plot twists producers have planned for the three-night event. Basically they laugh at the prospect that we will have no clue what is really going on in the narrative. Gotta love shows like this where the cast is excited about bringing in viewers to the story. This could be the big new hit that Syfy has been waiting for and, purely speculatively, its success could inspire the creators to take the story further in the future.
Ascension follows, and is inspired by, the real life Project Orion that thrived under President John F. Kennedy. The idea was to take the best and the brightest of Earth and launch them into the stratosphere for 100 years in case the Cold War became a bloody reality. The overall mission is to sustain the human race by colonizing Proxima Centauri. But 50 years into the mission, there is a mysterious murder of a young girl, and it's the first one since they have been in orbit. It all leads the core members of the Ascension to suspicions of their real mission.
The outline for the miniseries is one with endless possibilities and sounds like a hybrid of Elysium and Gattaca, making this is a must-see for sci-fi buffs and historical gurus curious about the beginnings of the Space Race. The more clips and vignettes I see, the more excited I am for this Syfy TV event. The first two of the six episodes airs on the Syfy Network on December 15th and will run for three nights. Other details about the series have been under tight wraps as to not fall into the spoiler range, but buzz is starting to build on this miniseries. Hopefully, Ascension will live up to the hype that Syfy has craftily been building the past few months.
Your Daily Blend of Entertainment News