HyperX Cloud White, Logitech G402 Prep For Back-To-School Gaming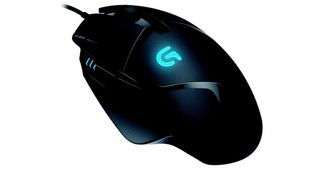 New gaming devices getting lost in the shuffle is nothing new. Two new devices that have been or are being overlooked due to all the big news rolling out of GamesCom includes the HyperX Cloud White gaming headset and Logitech's latest G402 Hyperion Fury gaming mouse.
The G402 was hinted at during the end of July and made some minor waves throughout the media circles in these early parts of August, but Logitech wanted to remind gamers going back to school that the G402 is still a viable option for late night MOBA play or eSport practice for games like StarCraft II or Counter-Strike.
The mouse is able to track over 500 inches per second utilizing the exclusive Fusion Engine and Delta Zero sensor technology.
Ehtisham Rabbani, general manager of the Logitech gaming business dropped the typical words-of-praise about the device saying...
Well, I'll have to give the G402 points for at least looking like a futuristic piece of wrist equipment. It looks righteous with that black and powder blue palette, especially with the glow effect... nice.
I still think that the Cyborg M.M.O 7 is still one of the most badass looking gaming mice around; it's like the Terminator of gaming mice. But that's just my opinion.
The next item is more of an alternative redo than a brand new device. HyperX announced a new Cloud White alternative to their Cloud gaming headset. The device carries 53mm drivers, detachable microphone and easy compatibility with PC, consoles (except for the Xbox One), tablets, phones and other mobile devices for easy accessibility for listening to music, chatting and diving ear-deep into audiophile territory.
It's also a favored device by eSports clubs such as Team Liquid, SK-Gaming and Alliance Gaming just to name a few.
Business manager Lawrence Yang for HyperX dropped the following comments about the device, saying...
You can grab the HyperX Cloud White gaming headset from the official Kingston website. It's already compatible with the PC and PS4 right out of the box, so all you have to do is plug-and-play. It's a real shame Microsoft changed the way they deal with third-party gaming accessories, as they'll be missing out on a lot of good gear this generation.
You can learn more about the Logitech G402 Hyperion Fury gaming mouse by heading on over the official Logitech website.
Staff Writer at CinemaBlend.
Your Daily Blend of Entertainment News
Thank you for signing up to CinemaBlend. You will receive a verification email shortly.
There was a problem. Please refresh the page and try again.