MadCatz Ships The New Cyborg M.M.O. 7 Gaming Mouse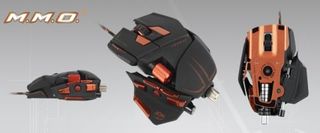 MadCatz announced that they have shipped the Cyborg M.M.O. 7. This is the mother of all gaming mice and it's currently available for those who want the sharpest edge possible when competitively gaming on PC.
The mouse is specifically designed to make the most of MMO gaming, hence the M.M.O. acronym moniker, and it has more dials, knobs and functionality than a Star Trek Enterprise cockpit.
Darren Richardson, the President and Chief Executive Officer of Mad Catz Interactive, commented briefly about the new gaming peripheral, saying...
It's such an awesome looking mouse at that. I mean, it's so technical looking it almost looks like it was stripped off a Japanese anime mech or maybe one of Michael Bay's Transformers.
Anyways, the Cyborg M.M.O. 7 is designed for high-end gaming for true video game enthusiasts. Only the most hardcore of the hardcore will probably want to invest in this bad boy because this mouse carries a hefty $129.99 price tag. However, it comes with 78 programmable commands, 5D buttons, RGB backlighting and 6400 DPI Twin-Eye laser sensor with four custom settings.
You can learn more about this one-of-a-kind mouse from MadCatz by paying a visit to the Official Website.
Your Daily Blend of Entertainment News
Staff Writer at CinemaBlend.