Watch Red Bull Battle Ground's ATL 128-Player StarCraft 2 Tournament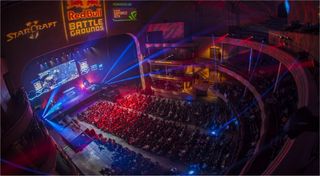 Red Bull has gone all-in on the eSports gig, giving gamers a lot to look forward to regarding the future of competitive game culture. Lately they've been holding unique events and pairing up some of the best players from around the world in epic showdowns on the big stage in front of live audiences. The company's latest bid to win over the eSports community is a massive 128 player showdown taking place right now in Atlanta, Georgia, where some of the best players from around the world are competing to take home $8,000 by the end of the weekend.
Not only will the event determine a cash prize winner, but the person who comes out on top will also snatch up a coveted spot in Red Bull's massive Battle Grounds grand finale that takes place at the dawn of fall in Washington, D.C., between September 20th and September 21st.
For gamers who are completely unfamiliar with eSports, don't worry I'll butcher my way through trying to explain the basics: so essentially Red Bull is focusing on one of the most popular competitive games in the world right now, StarCraft II.
The game allows players to pick a side and then battle in head-to-head battles against an opponent. The game is a real-time strategy title, which means that a lot of the competition boils down to how well you know your opponent and how well you can strategically out-maneuver, out-think and out-man them.
While it sounds easy, the gameplay is exceptionally deep as there is an in-depth level of micromanagement involved to keep players on their toes. It's like the ultimate multi-tasking mini-game.
Some of the top players from around the world are competing right now to take home some cash and a guaranteed spot in the grand finales.
Previously, Red Bull just hosted an event back in June, where some of the top players faced off against each other in a unique little showdown that was slightly different from the typical tournament setup.
Nevertheless, the various winners from the different tournaments will all meet in a head-to-head showdown in Washington D.C. You can see how the pooling is setup with the infographic below.
If the Twitch stream above isn't working correctly for you, or you want to learn more about Red Bull's eSports efforts, you can learn more or participate in the community efforts by heading on over to their official website.
There's still three more big events by Red Bull before the grand finales in September, and that includes an online battle, a global showdown and a stop in Detroit at the end of August. We'll be sure to keep you posted on the whole evolution of Red Bull's eSports endeavors.
Staff Writer at CinemaBlend.