Hyrule Warriors DLC Includes Twilight Princess, Majora's Mask Characters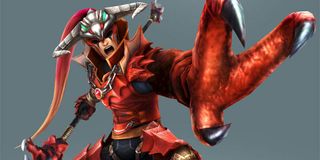 Nintendo announced their plans for Hyrule Warriors' DLC this weekend. They're going to release five DLC packs in the coming months that will dramatically expand the hack-and-slash game.
The first of these add-ons will be available for free. It unlocks Hyrule Warriors villains Cia, Wizzro and Volga as playable characters. This freebie will arrive in North America and Europe on October 16th. Japan, which received Hyrule Warriors back in August, will get the DLC on September 30th.
Nintendo only released a few basic details on the other DLC packs. Here's a run-down on that other content (via GAF):
Master Quest Pack (October 16) - New weapon, scenario, adventure map, and two costumes
Twilight Princess Pack (November) - New character, weapon, adventure map, and two costumes
Majora's Mask Pack (January) - Two new characters, adventure map, and three costumes
Ganon Pack (February) - Two new games modes
All four DLC packs can be purchased at once for $19.99/14.99€/13.49£/3000 Yen. The individual prices for each add-on aren't known yet. Buying them in bulk will grant you immediate access to a Dark Link costume:
Note that you'll need a significant amount of hard drive space for all this content, too. The DLC packs add up to roughly 1.6GB. That could be a bit of a squeeze on players with the Basic Wii U.
In Hyrule Warriors, Link must fight the sorcerer Gia and her army of monsters. He's aided in his quest by allies from other games in the series, such as Darunia from Ocarina of Time and Fi from Skyward Sword. The player can choose from any of these heroes and make use of their unique abilities. While it's a Zelda game, there's a much greater emphasis on combat. It was co-developed by Dynasty Warriors studio Omega Force and Ninja Gaiden devs Team Ninja.
Hyrule Warriors will hit Europe on September 19th and North America on the 26th.
Image 1 of 9